01.12.2015 | Research article | Ausgabe 1/2015 Open Access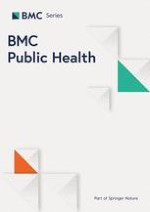 A qualitative assessment of the perceived risks of electronic cigarette and hookah use in pregnancy
Zeitschrift:
Autoren:

Maike K. Kahr, Shannon Padgett, Cindy D. Shope, Emily N. Griffin, Susan S. Xie, Pablo J. Gonzalez, Judy Levison, Joan Mastrobattista, Adi R. Abramovici, Thomas F. Northrup, Angela L. Stotts, Kjersti M. Aagaard, Melissa A. Suter
Wichtige Hinweise
Competing interests
The authors declare that they have no competing interests.
Authors' contributions
MAS, KMA, JL, TFN, ARA and JM and ARA contributed to over-all study design. MAS, CDS, ENG, SSX, PJG and MKK all served as focus group facilitators and did the post-group analysis/discussion. MKK and PJG served as translators for the focus groups as necessary. MKK, CDS and MAS performed the NVivo analysis. SP and KMA were the two trained obstetricians who performed the transcript analyses. All authors were involved in the drafting of the manuscript.
Abstract
Background
Studies reveal that electronic cigarette (e-cigarette) and hookah use are increasing among adolescents and young adults. However, the long-term health effects are unknown, especially with regards to pregnancy. Because of the increased use in women of reproductive age, and the unknown long-term health risks, our primary objectives were to determine the perceived risks of e-cigarette and hookah use in pregnancy, and learn common colloquial terms associated with e-cigarettes. Furthermore, we sought to determine if there is a stigma associated with e-cigarette use in pregnancy.
Methods
Eleven focus groups including 87 participants were conducted immediately following regularly scheduled CenteringPregnancy® prenatal care with women at three different clinics in the greater Houston area. A minimum of two facilitators led the groups, using ten lead-in prompts, with Spanish translation as necessary. Facilitators took notes which were compared immediately following each group discussion and each group was audio recorded and transcribed. Three facilitators utilized NVivo 9.0 software to organize the transcribed data into nodes to identify major themes. To increase rigor, transcripts were further analyzed by two obstetricians who were instructed to find the major themes.
Results
Analyses revealed contradicting themes concerning e-cigarette use. In general, e-cigarettes were perceived as safer alternatives to regular tobacco cigarettes, especially if used as smoking cessation devices. A major theme is that use in pregnancy is harmful to the fetus. However, it was perceived that use for smoking cessation in pregnancy may have fewer side effects. We found that a common term for e-cigarettes is "Blu." In our discussion of hookah use, participants perceived use as popular among teenagers and that use in pregnancy is dangerous for the fetus.
Conclusions
Although a strong theme emerged against hookah use, we found contradicting themes in our discussions on e-cigarette use in pregnancy. It is possible that e-cigarette use will not carry the same stigma as regular cigarette smoking in pregnancy. In addition, the impression of e-cigarettes as a healthier alternative to smoking may influence use in pregnancy. Clinicians need to be prepared for questions of e-cigarette safety and efficacy as smoking cessation devices from their pregnant patients who smoke, and women who smoke and are planning to become pregnant.