01.12.2012 | Research article | Ausgabe 1/2012 Open Access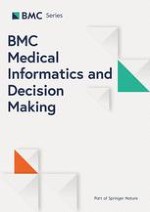 A qualitative study of professional and client perspectives on information flows and decision aid use
Zeitschrift:
Autoren:

Christine Stirling, Barbara Lloyd, Jenn Scott, Jenny Abbey, Toby Croft, Andrew Robinson
Wichtige Hinweise
Electronic supplementary material
The online version of this article (doi:
10.​1186/​1472-6947-12-26
) contains supplementary material, which is available to authorized users.
Competing interests
The authors declare that they have no competing interests.
Authors' contributions
CS generated the DA concept and with BL with assistance from JS, AR, TC, and JA carried out the qualitative development study. CS developed the first draft of the paper, and all other authors contributed to subsequent drafts of the paper. All authors read and approved the final manuscript.
Background
Shared decision making between health professionals and clients is now recognized as an imperative for improving primary health care outcomes [
1
]. Decision support needs and factors facilitating decision partnerships are, however, complex and contextual and it is increasingly clear we need to better understand this complexity [
2
–
6
]. Decision aids (DAs) are known to help individuals to make health care choices in complex situations, and when outcomes may be indeterminate or dependent on values and beliefs [
7
]. However, many research questions remain to be answered as to how DAs work in different settings, and in particular what influence diverse professional cultures might exert on the success or otherwise of decision aids targeting health service consumers [
6
,
8
]. This paper makes a contribution to addressing this research deficit, by reporting on a project which uncovered connections between the way three groups of health service providers 'positioned' carers and their perceptions of carers' decision support needs.
Care choices for carers of people with dementia
Professional cultures, positioning and shared decision-making
Methods
A supplementary secondary analysis was conducted of qualitative interview and focus group data collected during the development of the DA [
9
]. Secondary analysis of qualitative data allows material collected for another purpose to be 'mined' for alternative meanings, in ways that complement or transcend the original study see [
35
]. Supplementary secondary analysis extends the scope of the original project, with "a more in-depth focus on an emergent issue or aspect of the data which was not addressed, or was only partially addressed, by the primary research" [
35
], pages 41-42.
Ethics approval was granted for the original development study by the Tasmanian Social Science Human Research Ethics Committee. For that study, we sourced a convenience sample of 13 experienced carers (caring for more than 3 years) from previous unrelated studies and key support organizations. Our carer participants had characteristics consistent with the demographic profile of carers of PWD in Australia [
14
] though females and spouses were slightly over-represented. Most participants were female (85%), the spouse of the care recipient (85%) and aged over 66 (77%). Face-to-face interviews took between one and two hours. Questions focused on eliciting participants' perceptions of the usefulness, content and style of the DA, and of their own information and decision making needs. An advisory panel of community service providers included representatives from three key umbrella groups in the field of dementia, one of which focused on the disease itself, one on carers and one on respite services. These advisors provided access to 'expert' voices on dementia care. Expert panel participants were asked to review the DA and to contribute their perspectives during qualitative interviews.
In addition, three audiotaped focus groups were conducted with health care professionals from three community health service providers. The aim was to understand if and how different providers might use the DA and to evaluate which components might improve uptake of the intervention. The resulting 12 voluntary participants were mostly female (11 females: 1 male) and had an average age of 50. They included four community nurses, four counselors, and four community support workers. Due to the large amount of irrelevant data in the transcripts notes were extracted from these tapes by the researcher, after consultation and consensus with the chief investigator. It was during this process that the research team first identified issues around the positioning of carers.
Data was analysed, applying Clark's [
36
] method of positional mapping, by two members of the research team. Positional maps 'lay out the major positions taken and
not
taken, in the data vis-à-vis particular discursive axes of variation and difference... surrounding complicated relational issues in the situation.' [
36
] page 554. The researchers explored rival explanations, probed biases, and clarified the basis of interpretation, in order to enhance the credibility of the analysis. Common themes that emerged in reaction to the decision aid were: situating carers as empowered or passive, disagreements over carers' need for realistic information, and disparate perspectives as to whether the DA tool was useful for carers and/or health professionals. Positional maps were developed to highlight the major positions taken by research participants in relation to carers and the DA. These analytic maps represent the range of positions taken on particular issues in the data, using two axes of positions on a continuum. We found, for example, that carers were positioned as empowered (on a continuum of more or less), and that this related to the a second axis of carers' need for realistic information (on a continuum of more or less) (See Figure
1
). In the following section we describe the key positions and relationships that emerged from the qualitative data.
×
Results
Positioning carers
There were key differences amongst the informants regarding the type of information they believed was appropriate for carers. In Figure
1
we map these varied beliefs about carers against key differences in views on carers' empowerment. One axis covers the positioning of carers as empowered on a continuum of more or less, and the second axis covers the positioning of carers' need for realistic information on a continuum of more or less.
Four positions were uncovered in the qualitative data. A key position located the carer as an empowered subject needing realistic information as a crucial resource for managing his or her situation and planning for the future. This position was adopted by carers (with one exception) and community nurses. One carer stated that exposure to confronting stories was a necessary aspect of decision support:
'You need to put confronting stories in. You realize as you go along that it's not going to get any better. You need to face reality. I had to wash my toilet six times a day. It's hard!' (Carer 3)
. An important element of realistic information for carers was that the DA reinforced the fact that dementia had a trajectory of decline and included stories about the increasing care demands this deterioration brings:
'The [DA] information is good because they point out that it is never going to get better. That's an important message.' (Carer 5)
.
The second position took a more paternalistic view of carers, situating them as needing to be protected from realistic information. Carers were positioned as unable to cope with upsetting realities, and the assumption was that realistic information, such as the stories of carers being stressed by behaviors of PWD such as repetitive questioning and wandering, was likely to cause them to feel depressed. This perspective was clearly expressed by an expert advisor: '
The Gold Book decision aid is too confronting for carers' (Expert Advisor 1)
. In this positioning, participants felt that the timing of information giving was important and that they themselves were able to judge the 'best time' for information. One support worker expressed this succinctly: '
Not everyone is ready for this sort of thing. It needs to be given at the right time' (Support Worker 1)
. Expert advisors, counsellors and support workers were most likely to use this positioning, but only one carer expressed this view.
The third position situated carers as passive, but needing realistic information, which would compel them to see and plan for the future. '
Carers don't want to plan for the future, they sometimes cover their ears. Then service use typically starts from a crisis' (Expert Advisor 2)
. The final position evident in the data was a more nuanced one. This situated carers as partially empowered, with the level of information needed by carers dependent on the individual situation. Again however, the health professional was positioned as needing to judge how or when carers might want to access the information. The following quote illustrates the perspective of one counselor: '
Once the mind is free of all that then they can begin problem solving. If you bring in a service too early when they haven't sorted all those psychological factors then there will be problems (Counselor 2).'
While this belief exhibits elements of paternalism, carers are acknowledged as capable of decision making under the right circumstances, as judged and facilitated by the counselor.
The positioning of carers on a continuum of more or less empowered was related to views on how much realistic information carers should be given. While positions on a map should not be ascribed to any one group or individual [
36
], there were some clear differences between health professionals/workers and carers. Counselors, support workers and expert advisors were likely to position carers more paternalistically, suggesting that carers needed information to be provided 'when ready', and in a 'softened' or 'protective' format. Too much realistic information was represented as likely to generate despair, depression, or an inability to cope. Instead carers were positioned as needing to be gently assisted in a staged manner to come to terms with the future deterioration and death of the care-recipient, and services were viewed as a means to support them through this process. This position implied that the experts would be able to judge 'when' carers needed information, and the 'type' of information they would need. Carers and community nurses, on the other hand, were likely to represent carers as empowered individuals who require realistic information in order to plan and decide about services. These differences highlight the ability of professionals' beliefs to affect carers' access to resources.
Positioning the DA
Data supported a second positional map which mapped participants' views on whether the DA was useful for carers, and secondly whether the DA was useful as a tool for health professionals.
Many participants felt that carers would benefit from the DA. For some - mostly carers and community nurses - the DA was useful to carers as a stand-alone item. The following quote details one community nurse's perception that the DA provided information that helped carers negotiate the complex community service sector: '
There are so many services out there, so many way of receiving services, and this really captures that, the advantages and disadvantages. It's really great; it just puts it in a nutshell.' (Community Nurse 2)
. For carers, the way the decision aid highlighted the trajectory of dementia was also seen as very valuable, as seen in this career's quote: '
I really feel every carer needs one, it gives you the things you need to know and it's an ongoing thing, dementia, and if you have a booklet like this it gives you some idea of what is available' (Carer 3
). Carers related strongly to the vignettes, which in some cases, normalized their experiences to the extent that relieved them from guilt over respite decisions: '
If I had had this DA when I first made the decision to put my husband in respite care, it would have made me feel better about the decision' (Carer 8)
. Several carers expressed regret that they had not been able to access the DA earlier in their own caring experiences, as reflected in the following quote: '
If I had done the carer stress test earlier I would have sought help earlier' (Carer 6)
. Overall, the majority of carers and community nurses expressed a strong belief that the DA was useful to carers.
A second key position was that the DA would be useful for health professionals or others to work through with carers. This positioned the DA as useful to carers, both directly for personal use and indirectly as a tool for carer education and counseling. The DA was perceived as potentially useful as a discussion point with carers, as a take-away prompt for carers, and as a counseling device for the health worker. One role proposed for the DA was as a form of 'back-up' information to leave behind after discussion with carers. As this community nurse pointed out, carers cannot always retain large amounts of new information: '
You can talk to someone, and they can be really engaged about their decisions, but when you walk out the door they can go blank. But if we leave something like this behind then they can relook at it and we can talk about it next time when we come' (Community Nurse 2)
. Some carers saw the value of the DA to be used in a peer support capacity. One carer suggested that it could serve as a valuable referent at peer support meetings: '
The Gold Book decision aid could be used in a group situation so more experienced carers could give new carers support as they work through the book. At that time you only have your own thoughts and you're isolated so much. This would be a very good idea to bring to the carers meeting' (Carer 6)
.
A less commonly asserted perspective was that the DA was not useful. This was linked to the passive positioning of carers as co-clients needing to be protected from information. The following quote shows how an expert advisor was certain that carers did not need more information: '
Carers don't want booklets, don't want information, they are already stressed by too much written information given to them by X organization.' (Expert Advisor 3)
. Some participants considered the book 'not useful' for carers, but also 'not useful' as a tool for particular health professionals. As this counselor stated: '
The DA is not suited for how we work because we operate on forming a connection with people [carers] which they seem to like and need' (Counselor 1)
. These beliefs are in direct opposition to the perspectives expressed by all but one carer, but they were associated with particular roles. This highlights the importance of understanding health worker norms in DA interventions.
Discussion
The views of community nurses were closest to those of carers, since they understood the DA as providing information and decision support that would allow carers to make service decisions, with or without health professional assistance. It may be that community nurses could see the DA as an adjunct and of assistance in their work because their home visiting role gives them access to the situated contexts that inform the reality of carers' circumstances. The counsellors, support workers and expert advisors, however, positioned themselves within a therapeutic model, in which they were experts and the carers were clients. This positioning influenced their beliefs about potentially confronting information, which was seen as something that needed to be provided (often in a filtered form) by experts when they judged the time to be right. The carer was viewed as either an un-well client or a non-coping client who needed to be helped. In expressing this positioning, counselors and support workers used language that was embedded in their occupational roles and reflected traditionally held views of patients within the medical model of care.
Conclusion
Although many questions remain to be answered about how DAs work in different settings [
39
], this paper contributes to addressing an important research deficit. The beliefs and resulting practices associated with disparate health professions have been shown to lead to conflicting understandings of clients' information needs and the usefulness of decision support tools, with subsequent implications for decision aid implementation. We contend that if the primary health system is to embrace equal consumer participation in services, as advocated by recent analysts, carers must be explicitly positioned as competent agents who are able to make relevant evaluative judgments based on their own situations. Increased resources alone may not be sufficient to facilitate equality and balance in decision-making partnerships. Health workers' perspectives on client agency need to be addressed in greater depth if tools such as the DA are to overcome existing social barriers to resource flows. Although they specifically target counselors, Burnard's [
30
], page118 words of caution are apposite for all health service providers: "To withhold information and advice in order to satisfy a particular theory of how counseling should be practised may even be negligent", he warns. "To empower others, we must first rid ourselves of our own dogmas".
Acknowledgements
This study was funded from a larger grant by the JO and JR Wicking Trust administered by the ANZ Trustees.
This article is published under license to BioMed Central Ltd. This is an Open Access article distributed under the terms of the Creative Commons Attribution License (
http://​creativecommons.​org/​licenses/​by/​2.​0
), which permits unrestricted use, distribution, and reproduction in any medium, provided the original work is properly cited.
Competing interests
The authors declare that they have no competing interests.
Authors' contributions
CS generated the DA concept and with BL with assistance from JS, AR, TC, and JA carried out the qualitative development study. CS developed the first draft of the paper, and all other authors contributed to subsequent drafts of the paper. All authors read and approved the final manuscript.