01.12.2015 | Research article | Ausgabe 1/2015 Open Access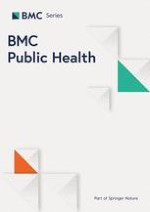 A qualitative study on Canadian youth's perspectives of peers who smoke: an opportunity for health promotion
Zeitschrift:
Autoren:

Roberta L. Woodgate, David S. Busolo
Wichtige Hinweise
Competing interests
The authors declare that they have no competing interests.
Authors' contributions
RLW was the main author of the manuscript and was involved in all aspects of the study including the conception and design of the study and the training and supervision of the hired research assistants who carried out data collection. RLW and DSB performed the data analysis. Both authors were responsible for drafting, reviewing, and approving the article.
Abstract
Background
Peer influence, peer selection, and health risk awareness are factors in smoking among youth. Despite the numerous studies on the social context, social network, and how youth define themselves and their smoking status in relation to tobacco use, qualitative knowledge about the role of smoking within peer relationships from youth themselves is only emerging. In this paper, qualitative findings describing Canadian youth's perspectives and experiences of smoking within the context of peer relationships are presented.
Methods
To examine youth's perceptions, a qualitative research study design was used. Seventy-five Canadian youth aged 11–19 years participated in open-ended interviews, focus groups, and photovoice methods. Data analysis involved several levels of analysis consistent with qualitative research.
Results
Youth who smoked were perceived by non-smoking peers as less popular and less socially accepted as represented by the theme:
The coolness (not so cool) factor
. Non-smoking youth felt that peers who smoked strained relationships and forced them to set boundaries and negotiate friendships as denoted by the theme:
Negotiating friendships: Being influenced, but also influencing
. Finally, in the theme of
Making sense of peers who smoke
, youth struggled to understand peers who continued to smoke and why they would start in the first place.
Conclusions
As reinforced in this study, Canadian youth increasingly view smoking as unhealthy and uncool. Moreover, youth report resisting peer influence to smoke and in fact, are now influencing their friends who smoke to quit. The self-empowerment stories of non-smoker youth reinforces the idea that the social meaning of smoking with peers is continuing to change from one where youth accepted and participated in the smoking behaviors of their peers, to an environment where youth's perceptions of personal health is paramount. Findings from this study could be used to guide health promotion and smoking prevention programs and campaigns for youth.