01.12.2014 | Review | Ausgabe 4/2014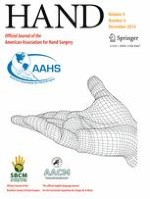 A quantitative study of vibration injury to peripheral nerves—introducing a new longitudinal section analysis
Zeitschrift:
Autoren:

John Davis, Ziyi Wang, Lin Ling Zhang, Michael Agresti, Hani S. Matloub, Ji-Geng Yan
Wichtige Hinweise
John Davis and Ziyi Wang made equal contributions toward this study.
Abstract
Purpose
Long-term vibrations are known to cause neurovascular diseases, which are common in workers who operate handheld power tools or motor vehicles. Understanding the neuropathology of vibration-induced nerve injury is critical to its prevention and treatment. This study aims to evaluate whether light microscopy of longitudinal nerve sections can be used as a simple yet effective method for quantifying nerve injury.
Methods
The rats were split into two groups that were subjected to vibration (4 h/day) for 7 or 14 days. They were then allowed to rest for varying periods of time. Longitudinal sections of the tail nerves were examined under light microscopy. Injuries to the nerves were classified into three types, counted, tallied, and then divided by the length of the nerve being studied.
Results
Both 7 and 14 days of vibration showed significant damage when no recovery time was given. After 1 month of rest, the 7-day group began to show signs of recovery, but the 14-day group did not. After 2 months of rest, the 7-day vibration group showed almost complete recovery, while the 14-day vibration group still showed significant damage when compared to the sham control groups.
Conclusion
The amount of damage to the myelin sheath directly correlated with vibration duration. When vibrated for longer than 7 days, nerve recovery was limited. This study also demonstrated that light microscopy of longitudinal slices is a simple yet effective method of quantifying the nerve damage.