18.05.2020 | Observational Research | Ausgabe 9/2020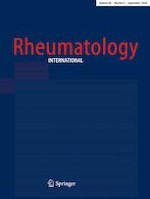 A questionnaire-based study on contraceptive practice in patients with rheumatic disease found no significant difference in age-matched healthy controls
Zeitschrift:
Autoren:

Andrea Pluma, Mihaela C. Micu, Antonio Julià, Sara Marsal, Frauke Förger, Monika Østensen
Wichtige Hinweise
Publisher's Note
Springer Nature remains neutral with regard to jurisdictional claims in published maps and institutional affiliations.
Abstract
Objective
Birth control is crucial in preventing unplanned pregnancy. The study analyzed contraceptive practice in women and men with rheumatic disease.
Methods
A questionnaire-based study investigated the actual contraceptive practices in patients of reproductive age from three European countries and compared them to age-matched healthy women and men. Associations between patient characteristics and contraception behavior were analyzed by association analysis.
Results
No significant difference in the frequency of contraception use was found in 133 rheumatic patients compared to 122 healthy controls. The main reason for not using contraception was lack of partner or the wish to become pregnant, whereas the current use of contraception was predominantly to limit family size in general or at this stage of life. Both patients and controls preferred barrier methods (48% and 45%, respectively) followed by hormonal contraceptives (31% and 38%, respectively). Characteristics associated with less use of contraception in patients were living single, having no children, and for being religious, whereas gender and education had no influence. Treatment with teratogenic drugs was no major patient concern, and 13 of 30 female patients using methotrexate, mycophenolate mofetil, or leflunomide did not practice birth control.
Conclusion
Patients used contraception less frequently than healthy individuals, and the main reason for use was to limit family size. Contraception should be an integral part of counseling patients of fertile age, since the patient-preferred methods in case of active disease or therapy with teratogenic drugs were unreliable for the prevention of pregnancy.