01.12.2018 | Research article | Ausgabe 1/2018 Open Access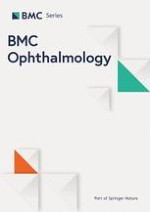 A rabbit model of corneal Ectasia generated by treatment with collagenase type II
Zeitschrift:
Autoren:

Jing Qiao, Haili Li, Yun Tang, Wenjing Song, Bei Rong, Songlin Yang, Yuan Wu, Xiaoming Yan
Abstract
Background
To investigate use of collagenase type II for generating a rabbit model of corneal ectasia.
Methods
Ten New Zealand white rabbits were used with right eyes treated as the experimental group and left eyes treated as the control group. After epithelial debridement, a collagenase type II solution (200 μL of 5 mg/mL) was applied in the experimental group at room temperature (24 °C) for 30 min, and a 200 μL solution without collagenase was applied in the control group. Slit-lamp microscopy, the mean keratometry (Km), and central cornea thickness (CCT) were examined before and after the procedure. Corneas were obtained on day 14 for biomechanical evaluation.
Results
No obvious inflammatory reaction was observed in all eyes after the procedure. A statistically significant increase in Km (1.54 ± 1.29D vs − 0.82 ± 0.44D at day7 and 0.89 ± 0.89D vs − 2.11 ± 1.02D at day14) and a statistically significant decrease in CCT (− 23.10 ± 12.17 μm vs 6.20 ± 16.51 μm at day7 and − 16.10 ± 10.46 μm vs 11.60 ± 0.88 μm at day14) were observed in the experimental group compared with the control group. The mean stresses and elastic modulus at 5%, 10%, 15%, and 20% deformities in the experimental group decreased and the differences in elastic modulus between the two groups were statistically significant at 10% and 15% deformities.
Conclusions
Collagenase type II treatment results in mimic KC with increased corneal keratometry and corneal thinning and a lower elastic modulus. An animal model for corneal ectasia can be generated by treatment with collagenase type II.