28.09.2016 | Original Paper | Ausgabe 3/2017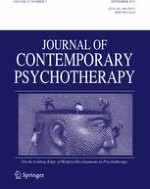 A Randomized Controlled Trial of the Say Yes to Life (SYTL) Positive Psychology Group Psychotherapy Program for Depression: An Interim Report
Zeitschrift:
Autoren:

Alan Carr, Linda Finnegan, Edel Griffin, Padraig Cotter, Anita Hyland
Abstract
An RCT was conducted to evaluate the effectiveness of the Say Yes to Life (SYTL) positive psychology group psychotherapy program compared with treatment as usual (TAU). The current interim report is based on data from the first 82 cases recruited into the trial. There were 57 trial completers at post-treatment. At pretreatment on demographic and clinical variables, there were no significant differences between trial completers and dropouts in SYTL and TAU groups. There were two main significant (
p
< .01) findings. Compared with TAU treatment-completers, more than twice as many SYTL treatment-completers (28 vs. 72 %) were recovered 3 months after therapy using stringent recovery criteria (no longer meeting DSM-5 diagnostic criteria for major depressive disorder and scoring below clinical cut-off scores on the Beck Depression Inventory II, the Hamilton Rating Scale for Depression, and the Montgomery–Asberg Depression Rating Scale and showing reliable change on these three measures of depressive symptom severity). Second, the overall average service use cost per case in the SYTL group was significantly lower than that of the TAU group (€726 vs.€1187). This was largely due to the lower cost of the SYTL group therapy program compared with TAU which involved individual therapy. The pattern of results in an intention-to-treat analysis was similar to that in the completer analysis, though group difference did not reach significance due to inadequate statistical power and conservative missing data imputation procedures. It is planned to collect data on 100 trial completers, based on a power analysis.