01.12.2017 | Research | Ausgabe 1/2017 Open Access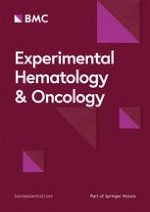 A randomized exploratory phase 2 study in patients with chemotherapy-related peripheral neuropathy evaluating whole-body vibration training as adjunct to an integrated program including massage, passive mobilization and physical exercises
Zeitschrift:
Autoren:

Stefan S. Schönsteiner, Heidi Bauder Mißbach, Axel Benner, Silja Mack, Thomas Hamel, Michael Orth, Bernhard Landwehrmeyer, Sigurd D. Süßmuth, Carolin Geitner, Regine Mayer-Steinacker, Anneliese Riester, Andrea Prokein, Elfriede Erhardt, Jelena Kunecki, Anna M. Eisenschink, Rainer Rawer, Hartmut Döhner, Elisabeth Kirchner, Richard F. Schlenk
Wichtige Hinweise
Electronic supplementary material
The online version of this article (doi:
10.​1186/​s40164-017-0065-6
) contains supplementary material, which is available to authorized users.
Abstract
Background
Chemotherapy-induced polyneuropathy (CIPN) is a common toxicity after chemotherapy, immunomodulatory drugs or proteasome inhibitors, which is difficult to treat and may also have impact on quality of life. The objective of the study was to evaluate whole-body vibration (WBV) on the background of an integrated program (IP) including massage, passive mobilization and physical exercises on CIPN.
Patients and methods
In an exploratory phase-2 study patients with CIPN (NCI CTC grade 2/3) were randomized for WBV plus IP (experimental) to IP alone (standard). 15 training sessions within 15 weeks were intended. As primary endpoint we used chair-rising test (CRT) to assess physical fitness and coordination. In addition, locomotor and neurological tests and self-assessment tools were performed.
Results
A total 131 patients with CIPN were randomized (standard, n = 65; experimental, n = 66). The median age was 60 (range 24–71) years; 44 patients had haematological neoplasms and 87 solid tumors. At baseline, all patients presented with an abnormal CRT. Fifteen (standard) and 22 (experimental) patients left the program due to progression/relapse or concomitant disease. There was no significant difference in the proportion of patients with normal CRT (<10 s) at follow up between experimental (68%) and standard (56%) (p = 0.20). All patients experienced less symptoms and pain (p < 0.001) and had improved CRT (p < 0.001) over time. WBV was significantly associated with a higher reduction of time needed for CRT (p = 0.02) and significantly improved warm-detection-threshold comparing baseline to follow-up assessment (p = 0.02).