01.01.2016 | Original Article | Ausgabe 1/2016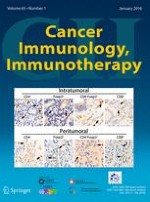 A randomized pilot trial testing the safety and immunologic effects of a MAGE-A3 protein plus AS15 immunostimulant administered into muscle or into dermal/subcutaneous sites
Zeitschrift:
Autoren:

Craig L. Slingluff Jr, Gina R. Petroni, Walter C. Olson, Mark E. Smolkin, Kimberly A. Chianese-Bullock, Ileana S. Mauldin, Kelly T. Smith, Donna H. Deacon, Nikole E. Varhegyi, Sean B. Donnelly, Caroline M. Reed, Kristy Scott, Nadejda V. Galeassi, William W. Grosh
Wichtige Hinweise
Electronic supplementary material
The online version of this article (doi:
10.​1007/​s00262-015-1770-9
) contains supplementary material, which is available to authorized users.
Prior presentation of data: A portion of the data in this manuscript were presented in poster form at the Annual Meeting of the Society for Immunotherapy of Cancer, in National Harbor, MD, USA, November 5–8, 2014.
Abstract
Introduction
Methods to induce T cell responses to protein vaccines have not been optimized. The immunostimulant AS15 has been administered with the recombinant MAGE-A3 protein (recMAGE-A3) i.m. but not i.d. or s.c. This study tests hypotheses that the i.d./s.c. route is safe and will increase CD4+ and CD8+ T cell responses to MAGE-A3.
Patients and methods
Twenty-five patients with resected stage IIB-IV MAGE-A3
+
melanoma were randomized to immunization with recMAGE-A3 combined with AS15 immunostimulant (MAGE-A3 immunotherapeutic) either i.m. (group A,
n
= 13) or i.d./s.c. (group B,
n
= 12). Adverse events were recorded. Ab responses to MAGE-A3 were measured by ELISA. T cell responses to overlapping MAGE-A3 peptides were assessed in PBMC and a sentinel immunized node (SIN) after 1 in vitro stimulation with recMAGE-A3, by IFN-γ ELISPOT assay and by flow cytometry for multifunctional (TNF-α/IFN-γ) responses.
Results
Both routes of immunization were well tolerated without treatment-related grade 3 adverse events. All patients had durable Ab responses. For all 25 patients, the T cell response rate by ELISPOT assay was 30 % in SIN (7/23) but only 4 % (1/25) in PBMC. By flow cytometry, multifunctional CD8+ T cell responses were identified in one patient in each group; multifunctional CD4+ T cell response rates for groups A and B, respectively, were 31 and 64 % in SIN and 31 and 50 % in PBMC.
Conclusion
The MAGE-A3 immunotherapeutic was well tolerated after i.d./s.c. administration, with trends to higher CD4+ T cell response rates than with i.m. administration. This study supports further study of AS15 by i.d./s.c. administration.