01.06.2014 | Original Article | Ausgabe 3/2014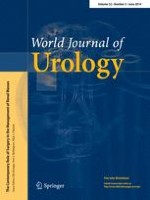 A randomized trial comparing thulium laser resection to standard transurethral resection of the prostate for symptomatic benign prostatic hyperplasia: four-year follow-up results
Zeitschrift:
Autoren:

Di Cui, Feng Sun, Jian Zhuo, Xiaowen Sun, Bangmin Han, Fujun Zhao, Yifeng Jing, Jun Lu, Shujie Xia
Wichtige Hinweise
Di Cui and Feng Sun contributed equally to this work.
Abstract
Objective
To report the results of a randomized prospective trial with a 4-year follow-up, comparing the thulium laser resection of the prostate-tangerine technique (TmLRP-TT) with transurethral resection of prostate (TURP) for treatment of symptomatic benign prostatic hyperplasia (BPH).
Methods
BPH patients (96) were randomized for surgical treatment with TmLRP-TT (47) or TURP (49). All patients were assessed pre-operatively and followed at 12, 24, 36, and 48 months post-operatively. Several parameters related to BPH were collected at each follow-up, including International Prostate Symptom Score (IPSS), quality of life (QoL), maximum urinary flow rates (Qmax), and post-void residual volume (PVR). All late complications were also recorded.
Results
Dramatic improvement in micturition parameters was observed after TmLRP-TT compared with pre-operative values. Median IPSS decreased 75.6 % in the subsequent 12 months and 61.2 % in 48 months, while median QoL decreased by 80.4 and 59.1 %, respectively. Compared with baseline, numerical values of Qmax increased 1.07-fold and those of PVR decreased 73.1 % in the fourth year. Moreover, all micturition parameters in the TmLRP-TT group were similar to those of TURP patients at every annual assessment. Some late complications after the operations were also observed: one patient suffered from urethral strictures and one from bladder-neck contractures after TmLRP-TT. Re-operation rates were equal in the two groups.
Conclusions
Micturition remained stable after TmLRP-TT during the 4-year follow-up. Outcomes compared favourably with TURP, with lower peri-operative morbidity and equally low occurrence of late adverse effects. Thus, TmLRP-TT can be an available option for BPH patients, especially older, high-risk patients.