01.12.2017 | Methodology | Ausgabe 1/2017 Open Access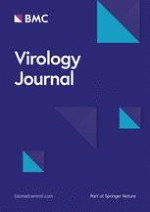 A rapid virus-induced gene silencing (VIGS) method for assessing resistance and susceptibility to cassava mosaic disease
Zeitschrift:
Autoren:

Getu Beyene, Raj Deepika Chauhan, Nigel J. Taylor
Wichtige Hinweise
Electronic supplementary material
The online version of this article (doi:
10.​1186/​s12985-017-0716-6
) contains supplementary material, which is available to authorized users.
Abbreviations
ACMV-CM
African cassava mosaic Cameroon virus
CBSD
Cassava brown streak disease
CMG
Cassava mosaic geminivirus
EACMV
East African cassava mosaic virus
FEC
Friable embryogenic callus
MePSY2
Manihot esculenta
phytoene synthase 2
MeSEC
Manihot esculenta SECRET AGENT
VIGS
Virus-induced gene silencing
Background
The starchy storage root of cassava serves as a staple food for millions of people in Africa. In 2014, over 50% of the world's cassava production took place in sub-Saharan Africa, where 146.8 million tons were harvested [
1
]. While cassava is resilient to abiotic stresses such as prolonged drought [
2
], its production is constrained by the two viral diseases, cassava mosaic disease (CMD) and cassava brown streak disease (CBSD) [
3
]. Cassava mosaic disease is caused by a cassava mosaic geminivirus (CMG) complex. CMGs are single-stranded bipartite DNA viruses in the family Geminiviridae, genus
Begomoviru
s, comprised of 11 species, two of which are present in the Indian sub-continent, with the rest endemic to Africa [
4
,
5
].
Improvement programs for development of CMD-resistant cassava germplasm include introgression of polygenic recessive resistance from the related species
Manihot glaziovii
(CMD1), identification of monogenic dominant resistance in West African cassava landraces (CMD2), and more recently, production of highly resistant cultivars carrying a quantitative trait loci (CMD3) [
6
–
9
]. Screening cassava germplasm for resistance to CMD traditionally involves cultivation under field conditions with exposure to transmission of CMGs mediated by the whitefly vector
Bemisia tabaci
for a growth cycle of 12–18 months [
6
,
10
,
11
]. Under contained conditions in the greenhouse or growth chamber, inoculation of cassava with CMGs can be achieved by a) graft inoculation from a CMG-infected host to healthy plants [
12
–
14
]; b) delivery of DNA genomes as infectious clones via microparticle bombardment [
15
–
17
]; c) A
grobacterium
-mediated inoculation of plants with cloned infectious DNA genomes [
18
]; or d) mechanical transmission of cloned viral DNA genomes by abrasion [
19
]. Irrespective of the inoculation method employed, CMD symptom development and severity is scored over a period lasting 12–22 weeks from the time of inoculation through the potential disease recovery process [
15
,
18
]. During this time the resistant/tolerant cultivars are identified based on displayed recovery phenotype on newly formed leaves, while the susceptible cultivars remain symptomatic throughout.
Methods currently available for evaluating resistance and susceptibility to CMD in new cultivars, breeding lines or transgenic and gene edited events are therefore lengthy, space inefficient and require frequent assessment of leaf symptoms by skilled personnel. We report here the development of a simple screening system for determining resistance or susceptibility to CMD that can be completed within 2–4 weeks from the time of inoculation. This rapid screening system is based on virus-induced gene silencing (VIGS) of an endogenous
MeSPY
gene. The method described saves time and space in the greenhouse and enhances capability to allow screening of a large number of plants in a short period of time.
Methods
Results
Production of EACMV-K201 VIGS clones and verification of infectivity
A VIGS system was developed by modifying the CP nucleotide sequence of the DNA-A component of the virulent infectious clone EACMV-K201 [
20
] to generate the VIGS construct p8202. Mutations were designed to introduce restriction sites
Avr
II,
Nhe
I and
Sbf
I (Fig.
1a
) in order to allow introduction of target sequences. The introduced mutations were confirmed by sequencing both strands of the modified CP sequences as shown (Fig.
1a
) and further confirmed by restriction analysis (data not shown). To check infectivity of the p8202 VIGS vector, a 452 bp fragment from the coding sequence of the cassava carotenoid biosynthetic gene phytoene synthase (
MePSY2
) was cloned at the
Nhe
I/
Sbf
I site of p8202 to generate MePSY2-VIGS. In addition, a GFP-VIGS DNA-A component was generated by cloning a 453 bp sequence from erGFP [
22
] into the restriction sites generated within the CP sequence.
×
Five-week-old plants of the CMD-susceptible cassava line TME 7S were inoculated by Helios® Gene Gun microparticle bombardment of the modified DNA-A component plus the infectious clone of DNA-B. TME 7S is a CMD-susceptible version of TME 7 previously described by Kuria
,
et al. [
28
]. Plants inoculated with MePSY2-VIGS developed visible chlorosis/bleaching on the challenged leaves and then subsequently on systemic leaves within 10–15 days after bombardment (Fig.
1b
). Bleaching of leaves persisted throughout the experimental period of 12 weeks (Fig.
1b
). Plants challenged with GFP-VIGS (which does not have a target gene sequence within the cassava genome) showed typical but mild CMD symptoms on systemic leaves that persisted throughout the study period (Fig.
1b
). Response of inoculated plants to MePSY2-VIGS and GFP-VIGS confirms that the VIGS constructs made by modifying EACMV-K201 are both infectious and efficacious in silencing gene expression in cassava.
Silencing of
MeSPY

gene is lethal in CMD-susceptible cassava cultivars

Using the Arabidopsis

SPY

gene (AT3G11540.1) [

29

,

30

] as a bait, two sequences, Manes.09G052300.1 (named

MeSPY1

) and Manes.08G028400.1 (named

MeSPY2

), were identified from the cassava v6.1 genome sequence [

31

]. The

MeSPY1

and

MeSPY2

sequences are 81% identical to Arabidopsis SPY at the amino acid level. Both MeSPY1 and MeSPY2 carry the conserved N-terminal tetratricopeptide repeat (TPR) domain, plus the novel serine and threonine

O

-linked N-acetylglucosamine transferase (OGT) [

30

] at the C-terminus of the protein (data not shown). The coding region of

MeSPY1

and

MeSPY2

genes are 91.80 and 90.78% identical to each other at the nucleotide and amino acid levels, respectively. The target sequence (452 bp) cloned into the VIGS vector from

MeSPY1

was obtained closer to the 5′-end, within the conserved TPR region. As

MeSPY1

and

MeSPY2

share high sequence identity (94.69%) at this selected region, both can be targeted for simultaneous silencing by MeSPY1-VIGS.

The susceptible cassava cultivar TME 7S was challenged with MeSPY1-VIGS by Helios® microparticle bombardment. Inoculated plants did not show typical CMD symptoms but instead underwent wilting and withering of one or more leaves just above the inoculation site within 10–15 DPI. This was followed by shoot-tip necrosis within 12–21 DPI. Defoliation then progressed downwards to mature leaves below the inoculation site and along the main stem continuing until most of the plants had died within 2–4 weeks after inoculation with MeSPY1-VIGS (Fig.

2a

). TME 7S plants challenged with the control GFP-VIGS showed typical CMD symptom development without shoot tip necrosis (Fig.

2a

). In order to determine if this was a cultivar-specific response, the CMD2-type cultivar TME 204 (Table

1

) was challenged with MeSPY1-VIGS and GFP-VIGS. Two types of TME 204 plants were used: wild-type TME 204, which shows development of CMD symptoms followed by recovery; and FEC-TME 204 lines. The latter TME 204 plants that were recovered through somatic embryogenesis lost their inherent resistance to CMD and showed no recovery from CMD after challenge with CMGs [

15

]. After challenge with MeSPY1-VIGS, all plants (10/10) of wild-type TME 204 displayed transient reduction in growth compared to the GFP-VIGS plants and then resumed normal growth without showing typical CMD symptoms. No shoot-tip necrosis was observed. In contrast, all FEC-derived TME 204 plants (8/8) displayed a similar phenotype to that described above for TME 7S, whereby elongation of the shoot was reduced, resulting in compact shoot-tips and wilting and withering of leaves just above the inoculation site. This was followed by death of the shoot-tip and wilting and defoliation of leaves that progressed downwards from the youngest to the oldest leaves. Time-lapse video of the process of shoot-tip necrosis and whole plant death in susceptible FEC-TME 204 and survival of the resistant wild-type TME 204 plant lines is presented (Additional file 1). All plants displayed shoot-tip necrosis with most plants dying within 2–4 weeks after challenge (Fig.

2b

). Inoculation with GFP-VIGS resulted in plants of both the susceptible and resistant lines of TME 204 developing CMD symptoms. Wild-type TME 204 plants then underwent recovery from CMD to show no symptoms on newly formed leaves by 16 weeks after challenge. FEC-derived plants remained symptomatic throughout, in a manner consistent with previous observations [

15

]. This data indicates that silencing of MeSPY is lethal in the two susceptible cassava lines TME 7S and FEC-derived TME 204, but not in the resistant wild-type TME 204.
×
Additional file 1:
Time-lapse video showing response of wild-type TME 204 (resistant to cassava mosaic disease, CMD) and FEC-TME 204 plants (susceptible to CMD) to inoculation with MeSPY1-VIGS. Both plant types were challenged with the modified EACMV-K201 (MeSPY1-VIGS) along with infectious DNA B clone. Images of challenged plants were captured every hour beginning from the 5
th
day after inoculation for a total of 22 days using 5MP camera boards controlled by Raspberry Pi microcomputers. Images were then converted to a movie file using Apple iMovie. Only pictures collected every 2 hours and during daytime were presented. Note the susceptible FEC-TME 204 plants die while the wild-type TME 204 survive MeSPY1-VIGS challenge. (M4V 14035 kb)
MeSPY1-VIGS's potential for use as a screening tool to determine resistance or susceptibility to CMD was investigated further by challenging additional cassava cultivars (Table
1
). These included: a) CMD2-type resistant wild-type plants of cultivars TME 7 and TME 3, and CMD-susceptible plant lines derived from FEC of TME 7 and TME 3; b) CMD3-type resistant cultivar TMS 98/0505 (wild-type) and FEC-derived TMS 98/0505; and c) CMD-susceptible cassava cultivars 60444 and Ebwanateraka. Inoculation of these cassava accessions with MeSPY1-VIGS showed that CMD-susceptible germplasm (FEC-TME 3, FEC-TME 7, 60444 and Ebwanateraka) underwent wilting of leaves above the inoculation site and necrosis of shoot-tips within 10–21 DPI. This was followed by defoliation, culminating in death of the majority of plants within 4 weeks after inoculation (Figs.
3
and
4
). The CMD-resistant wild-type cultivars TME 3, TME 7 and TMS 98/0505 survived challenge with MeSPY1-VIGS and displayed similar phenotype described above for wild-type TME 204 (Figs.
3
and
4
). Plants of FEC-derived TMS 98/0505 behaved in a manner identical to wild-type TMS 98/0505 confirming their known resistance to CMD [
15
]. Likewise, wild-type and FEC-derived plants of CMD1-type cultivars NASE 3 (TMS 30572) and NASE 14 also survive MeSPY-VIGS (data not shown). All plant lines were also challenged with GFP-VIGS. Data collected for development of and recovery from CMD symptoms correlated with that from plants inoculated with MeSPY1-VIGS such that all plant lines that resisted challenge with MeSPY1-VIGS also showed recovery from CMD symptoms after inoculation with GFP-VIGS (Fig.
5
).
×
×
×
Suppression of
MeSPY

and virus titer in challenged plants

Expression of

MeSPY

after inoculation with MeSPY1-VIGS was quantified by RT-qPCR in the CMD-resistant wild-type cultivar TME 7 and susceptible FEC-TME 7 plants at 9 DPI. At this time, plants challenged with the control GFP-VIGS showed systemic CMD symptoms on young leaves above the inoculation site, while the MeSPY1-VIGS leaves were smaller and shoot-tips were compact relative to the GFP-VIGS. Relative expression of the

MeSPY

gene was found to be significantly reduced (33%;

p < 0.05

) in FEC-derived TME 7 plants challenged with MeSPY1-VIGS when compared to TME 7 wild-type plants and to the corresponding GFP-VIGS controls (Fig.

5c

). Virus DNA titer was determined by qPCR (Fig.

5b

) and Southern blot analysis (Fig.

5a

) from the same samples collected at 9 DPI. TME 7 wild-type plants challenged with MeSPY1-VIGS and GFP-VIGS had significantly lower relative virus loads (2.36-fold and 7.23-fold, respectively) compared to the FEC-derived CMD-susceptible TME 7 plants (16.08 and 29.39, respectively). Greater virus DNA was detected in GFP-VIGS inoculated lines than MeSPY-VIGS inoculated lines (Fig.

6a

). qPCR virus titer data was seen to be consistent with Southern blot data showing relatively more virus titer in the susceptible FEC-derived TME 7 compared to the wild-type TME 7.
×
Discussion
Conclusion
A rapid and reliable screening method for determining resistance to CMD, one of the most important cassava viral diseases, has been developed. This screening system utilizes an EACMV-K201-based VIGS system to target the
MeSPY
gene and has proven effective across diverse cassava cultivars and lines. With this screening system in place, 3–5 times more plant lines can be screened with the same resources compared to previously available methods. It is therefore well suited for application for high throughput screening of breeding lines and transgenic and gene edited lines under controlled growth conditions.
Acknowledgments
We thank Amita Rai, Theodore Moll, Miriam Khalil, Maxwell Braud, Jackson Gehan, Collin Luebbert, Jennifer Winch, Jacquelyn Leise, Stephanie Lamb, Claire Albin and Mary Lyon at the Donald Danforth Plant Science Center for their technical assistance.
Funding
Funding for this research was provided by the Bill and Melinda Gates Foundation (OPPGD1485), the United States Agency for International Development from the American people (USAID Cooperative Agreement No. AID-EDH-A-00-09-00010), and the Monsanto Fund. The funders had no role in the design of the study; collection, analysis, or interpretation of data; nor in the writing of the manuscript.
Availability of data and materials
All data generated or analyzed during this study are included in this published article and its supplementary information files.
Authors' contributions
GB and NT conceived the project. RC generated FEC-derived plants. GB, RC and NT designed the project, carried out the experiments, and generated and analyzed the data. GB, RC and NT wrote the manuscript. All authors read and approved the final manuscript.
Competing interests
The authors declare that they have no competing interests.
Consent for publication
Not applicable.
Ethics approval and consent to participate
Not applicable.
Open Access
This article is distributed under the terms of the Creative Commons Attribution 4.0 International License (
http://​creativecommons.​org/​licenses/​by/​4.​0/​
), which permits unrestricted use, distribution, and reproduction in any medium, provided you give appropriate credit to the original author(s) and the source, provide a link to the Creative Commons license, and indicate if changes were made. The Creative Commons Public Domain Dedication waiver (
http://​creativecommons.​org/​publicdomain/​zero/​1.​0/​
) applies to the data made available in this article, unless otherwise stated.