01.12.2017 | Case Report | Ausgabe 1/2017 Open Access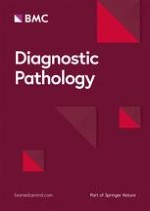 A rare case of malignant solitary fibrous tumor in prostate with review of the literature
Zeitschrift:
Autoren:

Andrea Ronchi, Elvira La Mantia, Vincenzo Gigantino, Sisto Perdonà, Marco De Sio, Gaetano Facchini, Renato Franco, Annarosaria De Chiara
Abstract
Background
Solitary fibrous tumor is an uncommon soft tissue neoplasm with intermediate biological behavior, which rarely metastasizes. Malignant solitary fibrous tumor, although not clearly defined, is rarely described in the prostate. The present case is characterized by some peculiarities if compared with previously reported cases of prostatic malignant solitary fibrous tumor. Firstly, it does not show a homogeneous morphology: part of the neoplasm (about 50%) showed the features of a conventional solitary fibrous tumor, while the remaining part showed the features of a malignant solitary fibrous tumor. In addition, the case is the first malignant solitary fibrous tumor reaching a huge diameter of 20 cm and replacing all prostatic parenchyma. Interestingly, normal prostatic parenchyma was observed on left-lobe trans-rectal needle-core biopsies, but was totally absent in surgical specimen. Since radical prostatectomy was carried out about 4 months after the biopsies, such discordant data may suggest exceedingly rapid growth of the neoplasm.
Case presentation
We report a case of a 62-year-old male, presented at medical observation for urinary retention, constipation and an enlarged prostate gland. A trans-rectal prostatic biopsy showed a low-grade spindle cell neoplasm. Histopathological examination of the prostatectomy specimen showed patternless architecture with hypocellular and hypercellular areas and hemangiopericytoma-like vessels. In some fields the neoplasm was characterized by a high mitotic index and evident cellular atypia. Immunohistochemically, neoplastic cells were positive for CD34, bcl2, CD99, STAT6 and partially for PgR. The neoplasm was diagnosed as a malignant solitary fibrous tumor.
Conclusions
The differential diagnosis of spindle cells tumors arising in the prostrate is broad and includes lesions of epithelial and mesenchymal origin, primary prostatic lesions such as stromal tumors of uncertain malignant potential and stromal sarcoma, as well as anatomically ubiquitous soft tissue neoplasms. Solitary fibrous tumors should be considered in cases of prostatic tumors with a spindled morphology, but malignancy in such tumors is extremely rare in the prostate. A review of literature showed only four additional cases. Because of the unpredictable biological behavior and the possibility of recurrence, a long-term clinical and instrumental follow-up is recommended.