10.12.2019 | Clinical Quiz | Ausgabe 5/2020 Open Access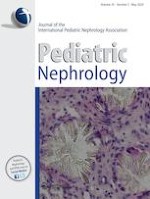 A rare complication of systemic lupus erythematosus in a 9-year-old girl: Answers
Zeitschrift:
Autoren:

Aleksandra Gliwińska, Omar Bjanid, Piotr Adamczyk, Justyna Czubilińska-Łada, Anna Dzienniak, Małgorzata Morawiecka-Pietrzak, Dagmara Roszkowska-Bjanid, Aurelia Morawiec-Knysak, Maria Szczepańska
Wichtige Hinweise
Aleksandra Gliwińska and Omar Bjanid contributed equally to this work.
Publisher's note
Springer Nature remains neutral with regard to jurisdictional claims in published maps and institutional affiliations.
Complication
Diagnosis
The overall low incidence of the disorder, its complex pathophysiology, and the lack of unified diagnostic criteria and confusing terminology contribute to the often delayed diagnosis and treatment, which is associated with high mortality due to the aggressiveness of the clinical course. In children who develop HLH secondary to rheumatic diseases, or MAS, the mortality ranges from 8 to 40% according to different sources [
10
–
12
]. In 1991, the Histiocyte Society proposed the first diagnostic criteria for both primary and secondary HLH, which were updated later and are referred to as the HLH-2004 diagnostic and therapeutic guidelines (Fig.
2
) [
13
,
14
].
×
Despite the striking similarities between HLH and MAS, which made the latter being considered as a variant of secondary HLH, some differences in the clinical picture may nonetheless influence the sensitivity and specificity of the diagnostic criteria. Particularly, fever, splenomegaly, and anemia are common in systemic juvenile idiopathic arthritis (sJIA) and can hardly be considered as distinctive, whereas leukopenia is usually not present in a chronic inflammatory disease like sJIA [
15
]. Moreover, some of the HLH-2004 criteria, like NK cell and soluble IL-2 receptor (sIL-2R) activity, are not readily available in non-specialized centers, and the results can generally not be obtained in a timely manner to help urgent therapeutic decision-making. To cope with those issues, a group of experts led by Ravelli proposed new diagnostic criteria for MAS in sJIA in 2016 (Fig.
2
) [
12
]. Interestingly, hemophagocytosis is not only not required but also does not figure in those criteria, which consequently have the advantage of clarity and simplicity in patients with sJIA. It would certainly be helpful if similar ones could be established for SLE MAS. Our patient met 5 out of the 8 HLH-2004 criteria (fever, splenomegaly, cytopenias, hyperferritinemia, hypertriglyceridemia, and hypofibrinogenemia), had an obvious underlying trigger (SLE), and responded well to the treatment; we therefore did not perform a bone marrow aspiration or biopsy, which obviously remain mandatory if an underlying malignancy is suspected, or in order to fulfil otherwise incomplete HLH-2004 criteria.
HLH remains challenging for the clinician in many aspects. The first one is the diagnosis and initiation of treatment despite the abovementioned diagnostic criteria, as HLH can mimic sepsis or even overlap with it when it complicates infections, for instance in patients with malignancies, immunodeficiency, or in transplant recipients. In that respect, a number of experts emphasize that an understanding of the HLH/MAS pathophysiology and its prompt recognition and treatment is crucial. If the constellation of HLH clinical signs is unfolding, treatment should not be delayed even if not all the criteria are formally fulfilled, as was the case in the presented patient [
16
].
Treatment
To date, there are no controlled trials assessing the clinical management of HLH/MAS, and no definitive recommendations can be made. In the available data, based on weak evidence, small groups, or even single cases, corticosteroids remain the first-line drug. Besides the HLH-2004 protocol, based on dexamethasone, etoposide, and cyclosporine, and usually reserved for primary or critically severe HLH, treatment options in secondary HLH and MAS are usually intravenous immunoglobulins (IVIG), cyclosporine, anakinra, and cyclophosphamide. Biologicals may play an increasing role in pediatric patients. Anakinra in particular, a recombinant human interleukin-1 receptor antagonist (IL-1Ra), was recently approved by The European Medicines Agency (EMA) for the treatment of sJIA in children and may prove valuable especially in patients with sJIA MAS [
17
,
18
].
Efforts are being made to overcome this lack of evidence-based recommendations. In an interesting ongoing collaborative initiative [
19
], the authors adopted a treatment algorithm in which less immunosuppressive drugs, anakinra and IVIG, are preferred in patients with serious infections and moderate HLH symptoms, whereas in the absence of serious infection or presence of critical HLH symptoms, anakinra, methylprednisolon, cyclosporine/tacrolimus, and IVIG are used. The data about treatment of SLE MAS are even scarcer. There are reports about the efficiency of cyclophosphamide, which, in the case of proliferative lupus nephritis, would seem an interesting choice, as it addresses the disease and its complication, similarly to anakinra in sJIA MAS [
20
,
21
]. Our patient was treated with intravenous methylprednisolone at a daily dose of 10 mg/kg body weight for 4 days, then 2 mg/kg daily for 3 weeks, followed by oral treatment with prednisone (2 mg/kg daily). From the 8th day of GCS treatment, intravenous cyclophosphamide was initiated at a dose of 350 mg every 2 weeks, up to 6 doses in total. She also received hydroxychloroquine as a supplementary SLE treatment. As mentioned before, a probable early MAS relapse was observed after the kidney biopsy and was treated with 3 methylprednisolone pulses (10 mg/kg daily), while cyclophosphamide was continued according to the initially planned Euro-Lupus regimen [
1
]. In conclusion, HLH seems a good example of the "
one size does not fit all
" adage, the treatment should be individually tailored, and more specific evidence-based recommendations are needed.
Compliance with ethical standards
Conflict of Interest
The authors declare that there are no conflict of interest.
Open Access
This article is distributed under the terms of the Creative Commons Attribution 4.0 International License (http://creativecommons.org/licenses/by/4.0/), which permits unrestricted use, distribution, and reproduction in any medium, provided you give appropriate credit to the original author(s) and the source, provide a link to the Creative Commons license, and indicate if changes were made.
Publisher's note
Springer Nature remains neutral with regard to jurisdictional claims in published maps and institutional affiliations.