01.03.2014 | Original Article | Ausgabe 1/2014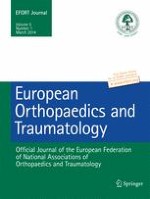 A register for patients undergoing shoulder surgery—perspectives in training of surgeons
Zeitschrift:
Autoren:

Ville Äärimaa, Juha Kukkonen, Keijo T. Mäkelä, Tommi Kauko, Petri Virolainen
Abstract
Background and aims
The aim of this study was to investigate the results of rotator cuff reconstructions related to surgical experience.
Materials and methods
Since August 2007, all patients (excluding joint replacements) undergoing elective shoulder surgery at our institution have been enrolled into the structural database. The register contains now more than 2,700 operated shoulders with various diagnosis. For the purpose of this study, a cohort of 576 consecutive patients who underwent an arthroscopic rotator cuff reconstruction was analysed.
Results
Five hundred sixty-nine patients were available for 1-year follow-up (dropout rate 2 %). All the operations were performed arthroscopically by two senior consultants (276 procedures), three specialists (124 procedures) and four residents (169 procedures). The mean age of patients (225 females, 344 males) was 59.6 years. The mean size of the rotator cuff tear was 25.2 mm (SD 17.5). The average operation time was 93 (range 25–235, SD 34) min. There was a significant difference in the operating time and the experience of the surgeon (
p
 < 0.001). The preoperative and postoperative Constant scores were 52 (SD 17.4) and 74 (15.5), respectively (
p
 < 0.0001). There was no significant difference in the pre- and postoperative Constant scores (
p
 = 0.5816) between the surgeons.
Conclusions
A register provides a tool, which may help also in training of surgeons. Our study shows that even a technically challenging arthroscopic rotator cuff reconstruction may be performed safely with good outcome by the low-volume surgeons.