12.02.2019 | Gynecologic Oncology | Ausgabe 5/2019 Open Access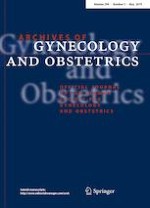 A retrospective validation study of sentinel lymph node mapping for high-risk endometrial cancer
Zeitschrift:
Autoren:

Tian Wang, Yuanjing Hu, Ya He, Peisong Sun, Zhengchen Guo
Wichtige Hinweise
Publisher's Note
Springer Nature remains neutral with regard to jurisdictional claims in published maps and institutional affiliations.
Abstract
Objectives
To determine the feasibility and performance of sentinel lymph-node (SLN) mapping among women with high-risk endometrial cancer (EC).
Materials and methods
Ninety-eight patients at high-risk EC were enrolled in this retrospective surgical trial from August 2016 to August 2018. All patients underwent intraoperative SLN biopsy, with ICG injection for laparoscopic staging; this was followed by pelvic and paraaortic lymphadenectomy (LAD). Outcomes included SLN detection rate, false-negative SLN algorithm rate, and the negative predictive value (NPV) of the SLN algorithm. The Chi-square test was used to analyze the relationship between SLN mapping and the risk factors. Then, we performed Kappa consistency check (
P
 < 0.05 with Meaning), to estimate the consistency of SLN and lymph-node metastasis.
Results
Successful biopsy occurred in 94 patients (170 sides) among 98 patients (196 sides). At least 1 SLN was identified in 86.7% (170/196). Overall, the false-negative rate (FNR) was 11.8% (2/17), NPV was 97.3% (72/74), and sensitivity was 88.2% (15/17). 22/98 patients (22.4%) with high-risk EC had at least one metastatic lymph node identified. When the SLN algorithm was retrospectively applied, the FNR was 9.1% (2/22) and sensitivity was 90.9% (20/22). Considering the surgeon's experience, 68 cases of EC (except for 30 patients), the detection rate was 89.7% (122/136), NPV was 98.1% (50/51), and the FNR was 5.6% (1/18). The factor significantly affecting the detection rate of SLNs was lymphovascular space invasion (LVSI) (
P
 = 0.016). SLN metastasis of EC was associated with depth of myometrial invasion (
P
 = 0.034). The analysis result of SLN and the consistency of pelvic lymph-node metastasis status. As detected by Kappa coefficient was 0.939 (
P
 < 0.001), suggests highly consistency.
Conclusions
Our SLN detection rate for high-risk EC was the same as previously reported. When SLN is not detected, better after 30 patients' experience, is a reasonable alternative to complete LAD in high-risk EC. In addition, SLN shows high co-occurrence with pelvic lymph nodes. Therefore, SLN biopsy can be used to diagnose high-risk EC.