23.11.2016 | Review | Sonderheft 2/2016 Open Access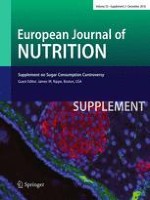 A review of recent evidence relating to sugars, insulin resistance and diabetes
Zeitschrift:
Autor:

I. A. Macdonald
Wichtige Hinweise
This article belongs to a supplement sponsored by Rippe Health.
Introduction
There is increasing interest in the possibility that a high intake of refined sugars is associated with detrimental effects on metabolism that increase the risk of cardiovascular disease, obesity, insulin resistance and diabetes. Some of the evidence underpinning these concerns is derived from cross-sectional surveys or ecological observations, but there are also prospective cohort studies and controlled intervention trials which have addressed this issue. This brief narrative review arises from a Symposium on Sugars and Health held at the European Nutrition Conference in October 2015. It will consider the recent work, published in the past 5 years, which has focussed on the potential impact of dietary sugars on health, in particular insulin resistance and diabetes risk, and seeks to identify the intakes which might be associated with health-related problems. The terminology employed in these discussions is often used rather loosely, with the term 'sugar' often being used to represent a range of different molecules. For the purposes of this article, 'sugar' is taken to be the common term for sucrose, and the collective term 'sugars' will be used to include sucrose, glucose and fructose together with the high fructose corn syrups which are replacing sucrose in sweetened beverages and foods in many countries.
Basic aspects of dietary carbohydrates, insulin action and insulin resistance
Dietary carbohydrates include the monosaccharides, disaccharides, oligosaccharides (chain length 3–9 molecules), polysaccharides and fibre. The monosaccharides are glucose, fructose and galactose, and the major disaccharides are sucrose (glucose plus fructose), lactose (glucose and galactose) and maltose (2 glucose molecules). The polysaccharide category represents the starches, which are made up of glucose polymers with variation in the location and number of cross-linkages between the molecules producing different sub-categories of starches. The mono- and disaccharides are normally combined into the collective category of sugars. The main carbohydrate contributors to dietary energy intake are the sugars and starches. The control of carbohydrate metabolism is dependent on appropriate levels of insulin secretion and insulin action. For the purposes of the present overview, the issues around insulin secretion (particularly as it relates to type 2 DM) will not be considered. However, the impact of dietary carbohydrates or total energy intake on insulin action is worthy of consideration.
Whilst there is currently some controversy over the role of carbohydrates in a healthy diet, most if not all national guidelines recommend that the proportion of energy contributed by carbohydrate should be approximately 50% (e.g. [
1
]). It has been known for at least 80 years that a low carbohydrate/high fat intake is associated with poorer glucose tolerance and insulin resistance [
2
]. The major concern at present is focussed on dietary sugars, and whether an excessive intake of them as a proportion of total carbohydrate can lead to insulin resistance and impaired glucose tolerance and lead to an increased risk of developing type 2 diabetes mellitus (DM). There is increasing concern about the potential threat to health represented by a high intake of sugars, as evidenced by the recent Dietary Guidelines for Americans [
3
], UK Scientific Advisory Committee for Nutrition's Carbohydrate report [
1
] and the WHO Sugars Report [
4
]. Although most of the attention has been focussed on sucrose and fructose, many studies have failed to directly compare fructose and glucose in randomised trials, and when direct comparisons have been made, it is clear that any impact on health is more likely to be a sugars-related effect than specifically due to fructose (see later).This short review will consider this issue in greater detail and assess the potential problems of sugars in relation to insulin resistance and risk of type 2 DM. The present article is a narrative review based on the systematic reviews undertaken to inform the SACN Review of Carbohydrates and Health. The details of these 3 systematic reviews are provided in the SACN report, including the search strategies and the inclusion/exclusion criteria. The additional literature included in the present review was identified separately from this systematic review process, and this was not performed using systematic review criteria but was simply designed to illustrate some of the additional aspects of this field and the more recent observations reported in the past 5 years. One of the major issues in this area of research is the short-term nature of many of the investigations, especially studies involving alteration of the carbohydrate composition of the diet or the types of sugars being consumed. Clearly the long-term health effects of such interventions can only be speculated about, but such studies do provide useful information on potential mechanisms of effects of carbohydrates on health.
What are the major issues relating to dietary fructose? Contrast between research evidence and speculation/opinion
What is the evidence from randomised controlled trials (RCT) of the metabolic effects of fructose or sucrose?
The overall conclusion from these studies is that a fructose intake exceeding 150 g/day in adults reduces fasting insulin sensitivity but intakes appear to need to exceed 250 g/day before affecting insulin-induced suppression of liver glucose output. There is less clarity of potential effects on peripheral insulin sensitivity, even at high fructose intakes. The higher doses of fructose also appear to increase serum TG, in at least some studies, and it is possible that this can occur with low doses of fructose in so far as late evening postprandial TG are concerned and without an increase in body weight (i.e. without overfeeding). It is striking that the majority of these observations are linked to situations where high fructose intakes are accompanied by excessive energy intakes, and the following section considers this in more detail.
Is the effect of fructose or sucrose affected by the amount consumed or the total energy intake?
It is interesting to note that the SACN report also looked at cohort studies examining associations between sugars intake and incidence of type 2 DM. Whilst the studies identified had too much heterogeneity to allow a meta-analysis to be performed, it was notable that they provided no consistent evidence of an association between diets differing in the proportion of sugars and the incidence of type 2 diabetes mellitus.
Should we be more concerned about dietary glycaemic characteristics than the sugars content?
There is increasing interest in the possibility that the glycaemic characteristics of carbohydrates may also be of importance in relation to optimal health. The original concept of glycaemic index was developed to help people with diabetes to improve their glucose control. In recent times, it has gained a wider application, and assessing the glycaemic index and glycaemic load of diets has been included in a number of prospective cohort studies which are summarised in the SACN report [
1
]. This has led to several randomised controlled trials of potential benefits of lower glycaemic index diets, including a recent study of our own (Bawden et al. [
25
]) which showed that healthy non-obese young men consuming a high glycaemic index diet for 7 days showed an increase in liver fat content, whereas 7 days on a low glycaemic index diet was accompanied by a small decrease in liver fat. In this study, the dietary GI was estimated on the basis of the GI tables provided by Brand-Miller's group [
26
]. Further work is needed to identify the potential impact of such differences on insulin resistance.
The SACN report [
1
] concluded that lower glycaemic index diets were associated with reduced risk of cardiovascular disease, but it is noticeable that most of the studies included in this meta-analysis also appeared in the analysis of associations with fibre intake, and clearly further work is needed to establish whether the glycaemic characteristics or some features of the fibre content are responsible for the potential health benefits. Care must also be taken in promoting low glycaemic index per se, because the glycaemic index of fructose is very low and increasing the fructose content would reduce a food's glycaemic index.
Conclusions
There is an association between diets high in sugars (predominantly sucrose) and risk of disease, and experimental studies have shown that high intakes of fructose (over 100 g/d) can reduce insulin sensitivity, although somewhat lower intakes may affect serum TG. The mechanisms for such associations or effects have not been convincingly demonstrated. However, it remains to be seen whether it will be possible to unravel these mechanisms in the current climate in which marked decreases in sucrose/fructose intakes are being promoted as key public health strategies.
Overconsumption of fructose, as a contributor to an excessive energy intake is linked with increased liver and muscle fat contents, but a similar effect is seen with glucose and thus it may be more linked to carbohydrate per se, or possibly just to energy, overconsumption. Future work with overfeeding of fat is needed to explore this further.
Compliance with ethical standards
Conflict of interest
Ian Macdonald is a member of the UK Government Scientific Advisory Committee on Nutrition and Chaired its recent Carbohydrates and Health Working Group, Treasurer of the Federation of European Nutrition Societies, Treasurer of the World Obesity Federation, a member of the Mars Scientific Advisory Council, the Mars Europe Nutrition Advisory Board, Scientific Adviser to the Waltham Centre for Pet Nutrition and has a UK Government Research Grant (from Innovate UK) for a project which is led by Mars UK. He is also the Academic lead for the University of Nottingham's strategic research partnership with Unilever, advises the Nestle Research Center on Nutrition and Health across the lifecycle, is on the Diet and Health Advisory Board of IKEA, and is co-chair of the Carbohydrates Task Force for ILSI Europe.
Open Access
This article is distributed under the terms of the Creative Commons Attribution 4.0 International License (
http://​creativecommons.​org/​licenses/​by/​4.​0/​
), which permits unrestricted use, distribution, and reproduction in any medium, provided you give appropriate credit to the original author(s) and the source, provide a link to the Creative Commons license, and indicate if changes were made.