29.10.2018 | Original Scientific Article | Ausgabe 1/2019 Open Access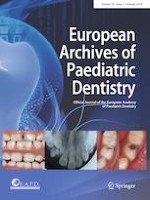 A review of the effect of music on dental anxiety in children
Zeitschrift:
Autoren:

S. L. Ainscough, L. Windsor, J. F. Tahmassebi
Introduction
The use of behaviour management techniques is important for the success of treatment; hence, the use of alternative therapies such as music can play a significant role in reducing anxiety.
Music in clinical settings
Music has been used in clinical settings within general practice (both medical and dental) and more specific settings such as surgery and particular professions allied to medicine (such as physiotherapy and speech therapy). It is useful at the outset to distinguish between the clinical practice of music therapists, who have specialist training (accredited in the UK by the British Association for Music Therapy) and the use of music by lay-practitioners who are not specifically trained, although they may have varying levels of practical and/or theoretical musical training, or some background in music psychology or clinical psychology.
Leaving aside the former, which is beyond the scope of this article, music has been used across the whole gamut of medicine and health, from emergency medicine (for example to reduce the need for pharmaceutical interventions) through cancer treatment and palliative care, in both physical and mental rehabilitation, and in psychiatry. Music can improve low mood, serve as a stimulus for talking therapy, moderate pain responses, and improve autonomic tone (Fancourt
2017
). Most relevant here is a growing body of empirical work within surgery, both dental and medical, where music is administered either as background or directly to a patient through earphones during procedures. There is now a body of evidence that suggests that music is of benefit in the moderation of pain, stress and anxiety, and may have financial as well as clinical benefits as opposed to more traditional interventions (Spintge
2012
).
Music and the psychobiology of anxiety
Music's impact on our physiological and cognitive state is far from straightforward. Reactions to music are highly individual and context dependent, varying with personality, experience, surroundings, age, taste and cultural background. Some generalities apply however, and certain patterns of musical structure (and associated lyrical content) may have predictable impacts on listeners, and there are conventional as well as more individual associations between styles and individual pieces of music, so it may be possible to predict and therefore prescribe music as a psychobiological treatment. Nonetheless, such predictable responses are elusive: for example, a piece of music might have a generally relaxing effect on most patients (due to its intrinsic musical structures), but the opposite effect on one patient who had first heard it in a shopping mall during an armed robbery (Sloboda and Juslin
2011
).
Anxiety is both a physiological and psychological construct, with the two aspects influencing one another. The physiological component of anxiety is heightened arousal, which can be measured objectively either through monitoring the presence of hormones in the body, or through the impact of these and the action of the central and peripheral nervous systems on heartrate and heartrate variability, respiration and galvanic skin response, for example. Most theorists regard the heightened arousal of anxiety as the consequence of a variety of cognitive interpretations of threat or incongruity; but such cognitions also explain the interpretation of that arousal as anxiety, rather than, for example, excitement (Spielberger
2013
). It is helpful in this context to visualise emotional responses to the external environment along two dimensions, one related to valence (the cognitive interpretation of the emotion from positive to negative) and the other its level of activity (high or low arousal) (Russell
1980
). Anxiety sits at the extreme negative on the valence dimension, with high arousal, whereas excitement would have similar levels of arousal, but positive valence. Music has been shown to influence both biological and psychological components of emotion along these dimensions in somewhat predictable ways (Sloboda and Juslin
2011
), and it is for this reason that one might choose to use it in a clinical setting to moderate anxiety, whether situational or chronic, above and beyond its implicit appeal.
Clinical application of music in the treatment and management of anxiety
Spintge in his review of music in operating theatres focuses extensively on the use of music to moderate stress and anxiety. He coined the term Anxioalgolytic Music (AAM) to refer to this practice, and given the individual differences of response, suggests self-chosen music as the most effective way of defining the musical material listened to, and notes that using headphones (where possible) reduces the impact of the music on staff (MacDonald et al.
2012
). This does make staff-patient communication more difficult, although in noisy settings may help mask irritating or anxiety-inducing environmental sounds for the patient. Music played over loudspeakers has both positive and negative effects on operating room staff: it can disrupt effective communication, but can also produce a calm working environment (George et al.
2011
; Weldon et al.
2015
). What is clear is that music is being used in perioperative settings, and despite the practical issues that arise, may be an effective intervention alongside more traditional approaches to chronic or situational anxiety when undergoing procedures.
Music and dental anxiety in children
There has been limited research into whether music can be used as an effective tool to reduce anxiety in children undergoing dental procedures and currently the evidence remains inconclusive. It is believed that music may be used alongside other behaviour management techniques to reduce dental anxiety in children and its use should be considered by all.
While the use of music has been explored within various clinical settings in both medicine and dentistry, the evidence-base for its use in reducing dental anxiety in children remains inconclusive and of limited quality. In most of the studies included in this article, there was limited discussion with regard to ethical approval, how the participants were recruited, how the participants were placed into different treatment groups and where they stated that they were 'randomly allocated', they did not mention the method of randomisation. There was also little reference as to whether the clinicians were blinded to the treatment group and any potential sources of bias.
Conclusion
Music has been shown to influence both the biological and psychological aspects of anxiety and there is a growing body of evidence to support its use alongside or instead of traditional interventions within the clinical setting.
Open Access
This article is distributed under the terms of the Creative Commons Attribution 4.0 International License (
http://​creativecommons.​org/​licenses/​by/​4.​0/​
), which permits unrestricted use, distribution, and reproduction in any medium, provided you give appropriate credit to the original author(s) and the source, provide a link to the Creative Commons license, and indicate if changes were made.