06.04.2018 | Review | Ausgabe 1/2018 Open Access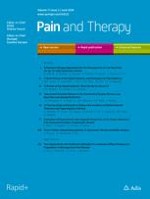 A Review of the Opioid Epidemic: What Do We Do About It?
Zeitschrift:
Autoren:

Edward A. Shipton, Elspeth E. Shipton, Ashleigh J. Shipton
Wichtige Hinweise
Enhanced digital features
Abstract
The opioid epidemic, with its noticeable increase in opioid prescriptions and related misuse, abuse and resultant deaths in the previous 12 years, is a particularly North American phenomenon. Europe, and particularly low- and middle-income countries, appear to be less influenced by this problem. There is undisputable value in using opioids not only in the treatment of acute pain, but in cancer pain as well. However, opioids are progressively being prescribed more and more for chronic non-cancer pain, despite inadequate data on their efficacy. In this paper, we describe the current prevalence of opioid misuse in a number of countries and the rationale for the commencement of opioid therapy. The safe initiation and monitoring of opioid therapy as well as the need for concurrent use of interdisciplinary multimodal therapy is discussed. The possible consequences of long-term use and predictors of high opioid use and overdose are presented. In particular, the management of opioid use disorders and the prevention of opioid abuse and dependence in the young, the old and the pregnant are discussed. Measures to prevent overprescribing and to alleviate risk are described, including the tapering of opioids and the use of opioid deterrents. Finally, the paper looks at the future development of pioneering medications and technologies to potentially treat abuse. In those parts of the world with an opioid epidemic, coroners and medical examiners, private and public health agencies, and agencies that enforce the law need to cooperate in an effort to slow down and reverse the indiscriminate use of prescribing opioids in the long-term for chronic non-cancer pain. Ongoing research is needed to create ways to minimise risks of opioid use, and to provide evidence for effective strategies for treating chronic pain.