01.12.2018 | Research article | Ausgabe 1/2018 Open Access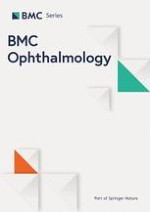 A rodent model of anterior ischemic optic neuropathy (AION) based on laser photoactivation of verteporfin
Zeitschrift:
Autoren:

Jing-yu Min, Yanan Lv, Lei Mao, Yuan-yuan Gong, Qing Gu, Fang Wei
Abbreviations
AION
Anterior ischemic optic neuropathy
CNV
Choroidal neovascularization
DAPI
4′,6-diamidino-2-phenylindole
FFA
Fundus Fluorescein angiography
F-VEP
Flash-visual evoked potential
PCV
Polypoidal choroidal vasculopathy
SD-OCT
Spectral domain optical coherence tomography
Introduction
In the present study, we describe an alternative approach to induce AION inrodents. Furthermore, we studied the morphology, function, and the mechanism of action of this model.
Method
Animals
All animal experiments adhered to the ARVO statement for the Use of Animals in Ophthalmic and Vision Research. Adult male Sprague Dawley (S-D) rats weighing 180–200 g were purchased from the Shanghai Laboratory Animal Center of the Chinese Academy of Sciences and were used for all the experiments. All animals were housed in cages at constant temperature, fed with a standard diet ad libitum and maintained under a 12-h light/12-h dark photoperiod. All types of surgery and manipulation were conducted in the Shanghai Key Laboratory of Fundus Disease. All procedures were carried out under sedation. Sedation was achieved by intraperitoneal injection of 10% (
w
/
v
) chloral hydrate(3.5 ml/kg). The pupils of anesthetized rats were dilated with one drop of 5% tropicamide, and the corneal was anesthetized with one drop of 0.4% oxybuprocaine hydrochloride. The number of animals used for the morphological and functional analyses of each group was
N
 = 6.
Induction of AION
A total of 6 mg/m2 of verteporfin (Novartis Ophthalmics Europe Ltd., Basel, Switzerland) was injected intravenously through the tail vein in order to induce optic nerve head ischemia. Following administration of the photosensitizer for 1 to 10 min duration, the laser was applied on the ONH of the left eye of each animal. The optic nerve head was subjected to a laser beam at a wavelength of 689 nm across a 500-μm diameter spot size for 158 consecutive secs. The laser energy used was 600 mW/cm2. The laser beam was used for the fellow eye at the ONH with no laser emission and the same operation parameters as stated above.
Fluorescein angiography and optical coherence tomography
Fundus fluorescein angiography (FFA), and spectral domain optical coherence tomography (SD-OCT) were conducted on days 0, 1, 3 and 7 following treatment to observe the progress of the optic nerve head edema and the related retinal response. A solution of 10% Fluorescein sodium (Alcon Laboratories Inc. Switzerland) was injected intraperitoneally. The angiographs were recorded following the change in coloration of the conjunctiva that appeared yellow in color (Heidelberg Engineering, Heidelberg,Germany). Retinal structure and retinal thickness were measured using SD-OCT (Heidelberg Engineering). Retinal scans were centered on the optic disc in both control and injured eyes.
Flash-visual evoked potentials (F-VEPs)
The F-VEP was conducted on days 1, 7, 14 and 21 following treatment with a Ganzfeld system (RetiPort, Roland Consult, Brandenburg, Germany). All animals had their pupils dilated and were anesthetized. Upon examination of one of the two eyes of each animal, the contralateral eye was covered. The settings of F-VEPs were based on previous reports [
6
,
11
], including no background illumination, a flash intensity of Ganzfeld 0 dB, a single flash with a flash rate of 1.9 Hz and a flash intensity of 3 cd.s/m
2
. The average test was conducted at 80 sweeps, whereas the threshold for rejecting artifacts was set at 50 mV and a sample rate of 2,000 Hz was used. The amplitudes of P1 for each F-VEP wave within the initial 100-ms interval were determined and used for the amplitude analysis (amplitude of P
1
 = amplitude of P
1
- amplitude of N
2
) [
6
,
12
].
Immunohistochemistry
Animals were euthanized on days 1, 4, 7, 14 and 21 following laser application. The eyes were enucleated, fixed in 4% paraformaldehyde (PFA) in PBS for 24 h and the anterior segment was removed. Subsequently, certain eyes were dehydrated in 30% sucrose overnight and embedded in Tissue-Tek O.C.T compound (Sakura, Torrance, CA) Cross sections of 10-μm in diameter were performed. The sections were incubated with mouse anti-CD68 monoclonal antibody(Serotec Ltd., Oxford, UK) at a 1:100 dilution and/or rabbit anti-Iba-1 monoclonal antibody (Abcam Inc. Cambridge, MA) at a 1:100 dilution, at 4 °C overnight in order to identify macrophages and microglia. FITC conjugated goat anti-mouse IgG and/or FITC conjugated goat anti-rabbit IgG (Jackson Immunoresearch, West Point, PA) were incubated with the sections for 1 h. Finally, sections were counterstained with 4′,6-diamidino-2-phenylindole (DAPI) nuclear stain.
The remaining eyes that were not examined were dehydrated with a posterior eyecup and embedded in paraffin. Retinal cross sections (5 mm thick) were then cut and stained with hematoxylin and eosin (Sigma, MO,USA). The sections were photographed and measured at approximately 2 to 3 disc diameters from the optic nerve using a microscope (Olympus BX53; Olympus, Tokyo, Japan). The thickness of the retinal tissues was determined by cell counts over a distance scale of 200 mm. The retinal thickness and cell number were calculated as the mean values of at least 3 measurements in adjacent sections [
13
].
TdT-mediated dUTP Nick-end labeling (TUNEL) assay
On days 1, 4, 7 and/or 14 following laser application, paraffin-embedded retinal tissue sections were deparaffinized, rehydrated, fixed with 4% PFA for 15 min at 4 °C and then subjected to enzymatic digestion with 20 mg/ml proteinase K for 8 to 10 min at room temperature. Induction of apoptosis was examined by TUNEL assay using a DeadEnd™ Fluorometric TUNEL System, according to the manufacturer's instructions. 4′,6-diamidino-2-phenylindole (DAPI) was used to stain the nuclear regions of the tissues. TUNEL-positive cells were examined using a laser scanning confocal microscope (Zeiss LSM 510, Carl Zeiss,Germany) in vitro in 6 random fields (at least 100 DAPI-positive cells per field) for each experimental group. The level of apoptosis was expressed as the ratio of the number of TUNEL-positive cells to that of DAPI-positive cells [
13
].
Retrograde labeling of RGCs with FluoroGold and morphometry of the RGCs
Following deep anesthesia, the rat heads were fixed in a stereotactic apparatus (Stoelting Kiel, Germany) and the skin covering the skull of the rats was incised. Fluoro-Gold (FG;Biotium, Hayward, CA, USA) was injected (2 μl of 4% FG in distilled H
2
O) into the superior colliculus (SC) on each side using a microsyringe, and was retained for 10 min. The animals were maintained for 1 week post-labeling and subsequently the eyes were enucleated and fixed with 4% PFA for 1 h. The retinas were examined with an Olympus BX53 fluorescence microscope (Olympus, Tokyo, Japan) with UV excitation (excitation filter, 350–400 nm; barrier filter, 515 nm) and a digital imaging system. The RGCs were examined by division into 4 quadrants (superior, inferior, nasal,and temporal), which were further divided into central (0.8–1.2 mm from the optic disc), middle (1.8–2.2 mm from the optic disc), and peripheral regions (0.8–1.2 mm from the retinal border). A total of 2 standard square areas (200 × 200 μm
2
) were measured in each region. The density of RGCs in each group of rats was expressed as the number of labeled RGCs/mm
2
compared with the counted retinal area [
14
].
Statistical analysis
The quantitative data were presented as mean ± SD. Statistical analyses were conducted using SPSS version 20 (SPSS, IL, USA). An unpaired Student's t-test for two-group data and one-way analysis of variance followed by a post hoc Bonferroni's multiple comparison test for three groups or more. A
p
value of lower than 0.05 (
p
 < 0.05) was considered statistically significant. Each experiment was conducted three times.
Results
Discussion
Conclusion
An AION model was successfully produced as demonstrated by FFA, SD-OCT and F-VEP images. The model can provide the estimation of inflammation by immunofluorescent staining and the estimation of the number of RGCs. The current study provided a steady, technically simple and controlled model, which can be used to examine the potential neuroprotective effects of certain agents and explore the pathological mechanism of AION.
Acknowledgements
Not applicable
Funding
This study was supported by National Natural Science Foundation of China (no. 81300774), the opening project of Shanghai key laboratory of Fundus Diseases (no.07Z22911).
Availability of data and materials
All the summarized data is presented in paper. The raw data of the present research is available upon reasonable request from the corresponding author.
Ethics approval
All animal experiments adhered to the ARVO statement for the Use of Animals in Ophthalmic and Vision Research. Ethical approval for this investigation was obtained from the Research Ethics Committee, Shanghai jiaotong University School of Medicine.
Consent for publication
Not applicable
Competing interests
The authors declare that they have no competing interests.
Publisher's Note
Springer Nature remains neutral with regard to jurisdictional claims in published maps and institutional affiliations.
Open Access
This article is distributed under the terms of the Creative Commons Attribution 4.0 International License (
http://​creativecommons.​org/​licenses/​by/​4.​0/​
), which permits unrestricted use, distribution, and reproduction in any medium, provided you give appropriate credit to the original author(s) and the source, provide a link to the Creative Commons license, and indicate if changes were made. The Creative Commons Public Domain Dedication waiver (
http://​creativecommons.​org/​publicdomain/​zero/​1.​0/​
) applies to the data made available in this article, unless otherwise stated.