06.04.2018 | Review | Ausgabe 2/2018 Open Access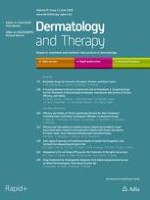 A Scoping Review Protocol to Explore the Use of Interleukin-1-Targeting Drugs for the Treatment of Dermatological Diseases: Indications, Mechanism of Action, Efficacy, and Safety
Zeitschrift:
Autoren:

Francisco Gómez-García, Juan Ruano, Jesús Gay-Mimbrera, Macarena Aguilar-Luque, Juan L. Sanz-Cabanillas, José L. Hernández Romero, Antonio Velez Garcia-Nieto
Wichtige Hinweise
Francisco Gómez-García and Juan Ruano contributed equally to this work.
Abstract
Introduction
The interleukin (IL)-1 pathway has been identified as being involved in inflammatory and neoplastic skin diseases such as psoriasis, atopic dermatitis, neutrophilic dermatosis, melanoma, and squamous cell carcinoma. Drugs developed to target the IL-1 pathway are currently used to treat these pathologies, and although they are becoming more selective, they are not exempt from adverse events and high costs. Integrating the best research evidence with clinical experience and patient needs has been shown to improve care, health, and cost outcomes. This is because evidence-based guidelines rank interventions according to cost-effectiveness. However, evidence on this topic is scarce for several reasons. First, although randomized clinical trials currently provide the best evidence, they are not always available. Second, there are no secondary scientific studies that summarize the use of IL-1-targeting agents in dermatology. We therefore sought to develop an a priori protocol for broadly reviewing the available evidence on the use of IL-1-targeting drugs in the treatment of dermatological diseases.
Methods
We used the latest methodology to perform a scoping review as described in the Joanna Briggs Institute manual.
Results/Discussion
Developing and applying a methodology for evidence synthesis promotes reproducibility and increases the validity of secondary scientific investigations, making it the optimal strategy for scientifically synthesizing a broad field such as the indications for and the mechanisms of action, efficacies, safety, and costs of IL-1-targeting drugs in the treatment of dermatological diseases. Quantitative synthesis facilitates the detection of knowledge gaps and the identification of new questions that can be addressed through systematic reviews. We present an a priori protocol for exploring the available evidence on this topic.