01.12.2015 | Research article | Ausgabe 1/2015 Open Access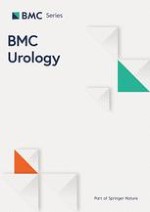 A segregation index combining phenotypic (clinical characteristics) and genotypic (gene expression) biomarkers from a urine sample to triage out patients presenting with hematuria who have a low probability of urothelial carcinoma
Zeitschrift:
Autoren:

Laimonis Kavalieris, Paul J O'Sullivan, James M Suttie, Brent K Pownall, Peter J Gilling, Christophe Chemasle, David G Darling
Wichtige Hinweise
Competing interests
LK, POS, JS and DD are employees of Pacific Edge Ltd and BP is an employee of Pacific Edge Diagnostics New Zealand Ltd. JS, BP and DD also hold shares and/or share options in Pacific Edge Ltd., a public company whose shares trade on the New Zealand Stock Exchange. DD and POS are listed as applicants in a Patent Cooperation Treaty application, and a corresponding US patent application, covering this technology and JS has advised on the filing of this application. PG is an investigator in clinical trials funded by Pacific Edge Ltd. CC declares that he has no competing interests.
Authors' contributions
LK was principally responsible for the statistical analysis and model development and interpreting the data. POS contributed to study management, data collection and interpretation and analysing the published literature. JS contributed to study management and data interpretation and analysing the published literature. BP contributed to the study design and conception, data interpretation and analysis of the published literature. PG contributed to study conception and design, conducted aspects of the study relating to collection of data from patients with macrohematuria and assisted with interpreting the data. CC collected data from patients with microhematuria. DD contributed to the study design and conception, conducting and managing the study, performing statistical analysis, interpreting data and analysing published literature. All authors contributed to the preparation of this manuscript and approved the final draft prior to submission.
Abstract
Background
Hematuria can be symptomatic of urothelial carcinoma (UC) and ruling out patients with benign causes during primary evaluation is challenging. Patients with hematuria undergoing urological work-ups place significant clinical and financial burdens on healthcare systems. Current clinical evaluation involves processes that individually lack the sensitivity for accurate determination of UC. Algorithms and nomograms combining genotypic and phenotypic variables have largely focused on cancer detection and failed to improve performance. This study aimed to develop and validate a model incorporating both genotypic and phenotypic variables with high sensitivity and a high negative predictive value (NPV) combined to triage out patients with hematuria who have a low probability of having UC and may not require urological work-up.
Methods
Expression of
IGFBP5
,
HOXA13
,
MDK
,
CDK1
and
CXCR2
genes in a voided urine sample (genotypic) and age, gender, frequency of macrohematuria and smoking history (phenotypic) data were collected from 587 patients with macrohematuria. Logistic regression was used to develop predictive models for UC. A combined genotypic-phenotypic model (G + P INDEX) was compared with genotypic (G INDEX) and phenotypic (P INDEX) models. Area under receiver operating characteristic curves (AUC) defined the performance of each INDEX: high sensitivity, NPV >0.97 and a high test-negative rate was considered optimal for triaging out patients. The robustness of the G + P INDEX was tested in 40 microhematuria patients without UC.
Results
The G + P INDEX offered a bias-corrected AUC of 0.86 compared with 0.61 and 0.83, for the P and G INDEXs respectively. When the test-negative rate was 0.4, the G + P INDEX (sensitivity = 0.95; NPV = 0.98) offered improved performance compared with the G INDEX (sensitivity = 0.86; NPV = 0.96). 80% of patients with microhematuria who did not have UC were correctly triaged out using the G + P INDEX, therefore not requiring a full urological work-up.
Conclusion
The adoption of G + P INDEX enables a significant change in clinical utility. G + P INDEX can be used to segregate hematuria patients with a low probability of UC with a high degree of confidence in the primary evaluation. Triaging out low-probability patients early significantly reduces the need for expensive and invasive work-ups, thereby lowering diagnosis-related adverse events and costs.