01.07.2010 | Pancreatic Tumors | Ausgabe 7/2010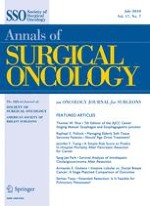 A Simple Risk Score to Predict In-Hospital Mortality After Pancreatic Resection for Cancer
Zeitschrift:
Autoren:

MD Joshua S. Hill, MD, PhD Zheng Zhou, MD Jessica P. Simons, MS Sing Chau Ng, MD Theodore P. McDade, MD Giles F. Whalen, MD, MPH Jennifer F. Tseng
Wichtige Hinweise
Presented at the American Society of Clinical Oncology Gastrointestinal Cancers Symposium, January 2009, San Francisco, CA, and the Society of Surgical Oncology Annual Meeting, March 2009, Phoenix, AZ.
Abstract
Background
Pancreatectomy for cancer continues to have substantial perioperative risk, and the factors affecting mortality are ill defined. An integer-based risk score based on national data might help clarify the risk of in-hospital mortality in patients undergoing pancreatic resection.
Methods
Records with the diagnosis of pancreatic cancer were queried from the Nationwide Inpatient Sample for 1998–2006. Procedures were categorized as proximal, distal, or nonspecified pancreatectomies on the basis of ICD-9 codes. Logistic regression and bootstrap methods were used to create an integer risk score for estimating the risk of in-hospital mortality using patient demographics, comorbidities (Charlson comorbidity score), procedure, and hospital type. A random sample of 80% of the cohort was used to create the risk score with a 20% internal validation set.
Results
A total of 5715 patient discharges were identified. Composite in-hospital mortality was 5.8%. Predictors used for the final model were age group, Charlson score, sex, type of pancreatectomy, and hospital volume status (low-, medium-, or high-volume center). Integer values were assigned to these characteristics and then used for calculating an additive score. Three clinically useful score groups were defined to stratify the risk of in-hospital mortality (mortality was 2.0, 6.2, and 13.9%, respectively;
P
< 0.0001), with a 6.95-fold difference between the low- and high-risk groups. There was sufficient discrimination of both the derivation set and the validation set, with
c
statistics of 0.71 and 0.72, respectively.
Conclusions
An integer-based risk score can be used to accurately predict in-hospital mortality after pancreatectomy and may be useful for preoperative risk stratification and patient counseling.