08.01.2018 | Original Article | Ausgabe 3/2018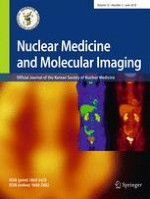 A Single Intraperitoneal Injection of Endotoxin Changes Glial Cells in Rats as Revealed by Positron Emission Tomography Using [11C]PK11195
Zeitschrift:
Autoren:

Miho Ota, Jun Ogura, Shintaro Ogawa, Koichi Kato, Hiroshi Matsuda, Hiroshi Kunugi
Abstract
Purpose
Intracranial administration of lipopolysaccharide (LPS) is known to elicit a rapid innate immune response, activate glial cells in the brain, and induce depression-like behavior. However, no study has focused on the changes in glial cells induced by intraperitoneal injection of LPS in vivo.
Methods
Ten adult male Fischer F344 rats underwent [11C]PK11195 PET before and 2 days after intraperitoneal injection of LPS to evaluate the changes in glial cells. The difference in standardized uptake values (SUV) of [11C]PK11195 between before and after injection was determined.
Results
There was a cluster of brain regions that showed significant reductions in SUV. This cluster included the bilateral striata and bilateral frontal regions, especially the somatosensory areas.
Conclusions
Changes in activity of glial cells induced by the intraperitoneal injection of LPS were detected in vivo by [11C]PK11195 PET. Intraperitoneal injection of LPS is known to induce depression, and further studies with [11C]PK11195 PET would clarify the relationships between neuroinflammation and depression.