28.12.2020 | Original Article | Ausgabe 6/2020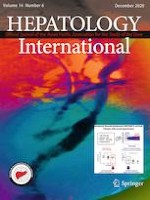 A standardized pathological proposal for evaluating microvascular invasion of hepatocellular carcinoma: a multicenter study by LCPGC
Zeitschrift:
Autoren:

Xia Sheng, Yuan Ji, Guo-Ping Ren, Chang-Li Lu, Jing-Ping Yun, Li-Hong Chen, Bin Meng, Li-Juan Qu, Guang-Jie Duan, Qing Sun, Xin-Qing Ye, Shan-Shan Li, Jing Yang, Bing Liao, Zhan-Bo Wang, Jian-Hua Zhou, Yu Sun, Xue-Shan Qiu, Lei Wang, Zeng-Shan Li, Jun Chen, Chun-Yan Xia, Song He, Chuan-Ying Li, En-Wei Xu, Jing-Shu Geng, Chao Pan, Dong Kuang, Rong Qin, Hong-Wei Guan, Zhan-Dong Wang, Li-Xing Li, Xi Zhang, Han Wang, Qian Zhao, Bo Wei, Wu-Jian Zhang, Shao-Ping Ling, Xiang Du, Wen-Ming Cong, for the Liver Cancer Pathology Group of China (LCPGC)
Wichtige Hinweise
Electronic supplementary material
Xia Sheng, Yuan Ji, Guo-Ping Ren, Chang-Li Lu and Jing-Ping Yun first author.
Publisher's Note
Springer Nature remains neutral with regard to jurisdictional claims in published maps and institutional affiliations.
Abstract
Background and aims
Microvascular invasion (MVI) is a key pathological factor that severely affects the postoperative prognosis of patients with hepatocellular carcinoma (HCC). However, no MVI classification schemes based on standardized gross sampling protocols of HCC are available at present.
Methods
119 HCC specimens were sampled at multiple sites (3-, 7-, and 13 points) for the optimum MVI detection rate. 16,144 resected HCCs were graded as M0, M1 or M2 by adopting three-tiered MVI grading (MVI-TTG) scheme based on the seven-point sampling protocol (SPSP). Survival analyses were performed on 2573 patients to explore the advantages of MVI-TTG.
Results
The MVI detection rate determined by SPSP was significantly higher than that determined by the 3-point sampling method (34.5% vs. 47.1%,
p
 = 0.048), but was similar to that determined by the 13-point sampling method (47.1% vs. 51.3%,
p
 = 0.517). Among 16,144 resected HCCs, the proportions of M0, M1 and M2 specimens according to SPSP were 53.4%, 26.2% and 20.4%, respectively. Postoperative survival analysis in 2573 HCC patients showed that the 3-year recurrence rates in M0, M1 and M2 MVI groups were 62.5%, 71.6% and 86.1%, respectively (
p
 < 0.001), and the corresponding 3-year overall survival (OS) rates were 94.1%, 87.5% and 67.0%, respectively (
p
 < 0.001). M1 grade was associated with early recurrence, while M2 grade was associated with both early and late recurrence. MVI-TTG had a larger area under the curve and net benefit rate than the two-tiered MVI grading scheme for predicting time to recurrence and OS.
Conclusions
SPSP is a practical method to balance the efficacy of sampling numbers and MVI detection rates. MVI-TTG based on SPSP is a better prognostic predictor than the two-tiered MVI scheme. The combined use of SPSP and MVI-TTG is recommended for the routine pathological diagnosis of HCC.