04.11.2017 | Original Article - Vascular | Ausgabe 1/2018 Open Access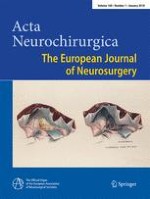 A study of the opinions of Swedish healthcare personnel regarding acceptable outcome following decompressive hemicraniectomy for ischaemic stroke
Zeitschrift:
Autoren:

Magnus Olivecrona, Stephen Honeybul
Abstract
Background
Decompressive hemicraniectomy (DC) is an established lifesaving treatment for malignant infarction of the middle cerebral artery (mMCAI). However, surgical decompression will not reverse the effects of the stroke and many survivors will be left severely disabled. The objective of this study was to assess what neurological outcome would be considered acceptable in these circumstances amongst Swedish healthcare workers.
Method
Healthcare workers were invited to participate in a presentation that outlined the pathophysiology of mMCAI, the rationale behind DC and outcome data from randomised controlled trials that have investigated efficacy of the procedure. They were then asked which neurological outcome would they feel to be acceptable based on the modified Rankin Score (mRS) and the Aphasia Handicap Scale (AHS). Information regarding sex, age, marital status, relatives, religion, earlier experience of stroke and occupation was also collected.
Results
Six hundred and nine persons participated. The median accepted mRS was 3. An mRS of 4 or 5 was perceived to be acceptable by only 30.5% of participants. Therefore the most likely outcome, based on the results of the randomised controlled trials, would be unacceptable to most of the participants [OR 0.39 (CI, 0.22–0.69)]. The median accepted AHS was 3. A worst language outcome of restricted autonomy of verbal communication (AHS 3) or better would be accepted by 44.6%.
Conclusions
This study has highlighted the ethical problems when obtaining consent for DC following mMCAI, because for many of the participants the most likely neurological outcome would be deemed unacceptable. These issues need to be considered prior to surgical intervention and the time may have come for a broader societal discussion regarding the value of a procedure that converts death into survival with severe disability given the attendant financial and healthcare resource implications.