01.12.2019 | Research article | Ausgabe 1/2019 Open Access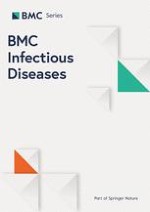 A survey of fungal microbiota in airways of healthy volunteer subjects from Puglia (Apulia), Italy
Zeitschrift:
Autoren:

Giovanna Elisiana Carpagnano, Antonia Susca, Giulia Scioscia, Donato Lacedonia, Grazia Cotugno, Piera Soccio, Sonia Santamaria, Onofrio Resta, Giuseppe Logrieco, Maria Pia Foschino Barbaro
Wichtige Hinweise
Giovanna E. Carpagnano and Antonia Susca contributed equally to this work.
Abstract
Background
The human respiratory tract represents the major portal of entry for numerous microorganisms, primarily those occurring as airborne particles such as viral and bacterial entities, or fungal spores. Microorganism characteristics coupled with the local host immune response will determine whether they will be cleared or adhere and colonize the airways leading to acute or chronic pulmonary disease. Like bacteria, fungi can cause severe lung diseases, but their infection rates are much lower. The lung microbiota is commonly sampled using relatively invasive bronchoscopic procedures. Exhaled breath condensate (EBC) collection offers a potentially less invasive alternative for lung microbiota sampling. This study tries to determine the composition of fungal communities in a cohort of healthy adult volunteer subjects from Puglia (Apulia), Italy.
Methods
Fungi diversity in 27 EBC samples collected from Italian adult volunteers was investigated using conventional microbiological culturing and DNA sequencing approach.
Results
Ten tested subjects (37,03%) turned out to present fungi in the EBC. We observed complex fungal communities, in which more than 10% of the isolated species are represented by
Aspergillus sydowii
(14,8%) and
Cladosporium spp
(11,11%). Three subjects that showed fungal presence in EBC have been diagnosed with a respiratory disease.
Conclusions
We present a survey of an important scientific field in its early stages that is fungal contamination of airways of healthy subjects in a small geographic area. Furthermore, we interpreted our results to highlight the potential role of fungi in the context of respiratory diseases.