01.12.2017 | Review | Ausgabe 1/2017 Open Access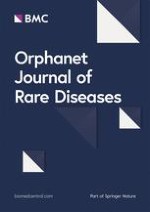 A survey of resistance to colchicine treatment for French patients with familial Mediterranean fever
Zeitschrift:
Autoren:

Alice Corsia, Sophie Georgin-Lavialle, Véronique Hentgen, Eric Hachulla, Gilles Grateau, Albert Faye, Pierre Quartier, Linda Rossi-Semerano, Isabelle Koné-Paut
Abstract
Background
Colchicine is the standard treatment for familial Mediterranean fever (FMF), preventing attacks and inflammatory complications. True resistance is rare and yet not clearly defined. We evaluated physicians' definition of colchicine resistance and report how they manage it.
Patients and methods
We recruited patients with a clinical diagnosis of FMF, one exon-10 Mediterranean fever (
MEFV
) gene mutation and considered resistant to colchicine, via networks of expert physicians. Clinical, biological characteristics and information about colchicine treatment (dose adjustment, compliance) were collected. The severity of FMF was assessed by the Tel Hashomer criteria.
Results
We included 51 patients, most females (55%), mean age 34 ± 23.1 years years (range 4.7–86.3). Overall, 58% (27/47) patients had homozygous M694
MEFV
gene mutations. Seventeen of 42 patients (40%) declared full adherence to colchicine treatment, greater for children (48%) than adults (22%). Physicians considered colchicine resistance with > 6 attacks/year (
n
 = 21/51, 42%), > 4 attacks in the last 6 months (
n
 = 13/51, 26%), persistent inflammation (
n
 = 23/51, 45%), renal amyloidosis in (
n
 = 6/28, 22%) of adult patients and intolerance to an increase in colchicine dose (
n
 = 10/51, 19%), and other reasons (
n
 = 13/51, 23%), including chronic arthralgia (
n
 = 6/51, 12%). Interleukin 1–targeting drugs represented the only alternative treatments in addition to daily colchicine.
Conclusion
Resistance to colchicine is rare (<10% of patients) and mostly observed in severe
MEFV
genotypes. The main reasons for physicians assessing resistance were severe clinical symptoms, persistent subclinical inflammation, and secondary amyloidosis. Low adherence to colchicine treatment is a key component of resistance.