05.07.2018 | Original Article | Ausgabe 6/2018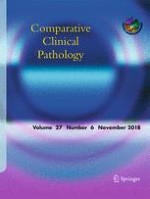 A survey to examine
Candida albicans

transmission through yolk sac and amniotic sac in chicken embryos
Zeitschrift:
Autor:

Peyman Nakhaee
Abstract
Candida albicans
is the fungus responsible for the incidence of candidiasis
.
This fungus, in low volumes, is a natural inhabitant in various organs of birds which can act as a pathogen in some circumstances. Infection patterns are used to study microbial pathogenesis. The infection patterns can be used in the evaluation of host-pathogen interaction, pathogenicity, virulence agents, and remedy studies. In order to eliminate the diversity and differences of the infection patterns between invertebrates and mice, this study introduced an alternative, low-cost, and simple application of infection patterns for
Candida albicans
based on embryonated eggs. Similar to other infection patterns, embryonated eggs can be used as an acceptable pattern to study fungal pathogenesis. In this study, systemic candidiasis was achieved in chicken embryos by yolk sac and amniotic sac inoculations of
Candida albicans
and its histopathological demonstrations were examined in three organs including liver, kidney, and lung.
Candida albicans
was subcultured once on yeast extract-peptone-dextrose (YPD) agar. Plating serial dilutions on YPD agar plates was carried out to confirm the infectious doses. Subsequently, inoculation into yolk sac and amniotic sac was carried out with the intended infectious dose. After 18 days of incubation, histopathologic specimens were taken from embryonated chicken organs. Predominant lesions were observed in liver, kidney, and lung which included the accumulation of mononuclear cells. In conclusion, this study corroborated the embryo transmission of
Candida albicans
via yolk sack and amniotic routes by focusing on the importance of hygiene and biosecurity in breeder flocks and particularly in hatcheries.