29.11.2017 | Original Article | Ausgabe 2/2018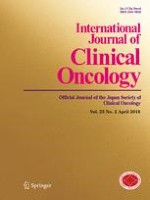 A survival analysis using physique-adjusted tumor size of non-small cell lung cancer
Zeitschrift:
Autoren:

Naoki Ozeki, Takayuki Fukui, Koji Kawaguchi, Shota Nakamura, Shuhei Hakiri, Taketo Kato, Akihiro Hirakawa, Kohei Yokoi
Abstract
Background
Differences in individual body sizes have not been well considered when analyzing the survival of patients with non-small cell lung cancer (NSCLC). We hypothesized that physique-adjusted tumor size is superior to actual tumor size in predicting the prognosis.
Methods
Eight hundred and forty-two patients who underwent R0 resection of NSCLC between 2005 and 2012 were retrospectively reviewed, and overall survival (OS) was evaluated. The physique-adjusted tumor size was defined as: x-adjusted tumor size = tumor size × mean value of x/individual value of x [
x
= height, weight, body surface area (BSA), or body mass index (BMI)]. Tumor size category was defined as ≤2, 2–3, 3–5, 5–7, and >7 cm. The separation index (SEP), which is the weighted mean of the absolute value of estimated regression coefficients over the subgroups with respect to a reference group, was used to measure the separation of subgroups.
Results
The mean values of height, weight, BSA, and BMI were 160.7 cm, 57.6 kg, 1.59 m2, and 22.2 kg/m2, respectively. The 5-year survival rates ranged from 88−59% in the non-adjusted tumor size model (SEP 1.937), from 90−57% in the height-adjusted model (SEP 2.236), from 91−52% in the weight-adjusted model (SEP 2.146), from 90−56% in the BSA-adjusted model (SEP 2.077), and from 91−51% in the BMI-adjusted model (SEP 2.169).
Conclusions
The physique-adjusted tumor size can separate the survival better than the actual tumor size.