30.06.2020 | Review Article | Ausgabe 4/2020 Open Access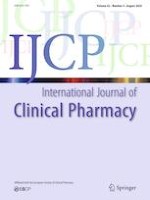 A systematic review of pharmacist input to metabolic syndrome screening, management and prevention
Zeitschrift:
Autoren:

Rana Moustafa Al AdAwi, Derek Stewart, Cristin Ryan, Antonella Pia Tonna
Wichtige Hinweise
Electronic supplementary material
Publisher's Note
Springer Nature remains neutral with regard to jurisdictional claims in published maps and institutional affiliations.
Impacts on Practice
There is a lack of evidence on the role for the pharmacist in metabolic syndrome (MetS), the viable models of care and the beneficial population.

The review suggests that pharmacists can effectively screen patients for MetS, and participate in the prevention and management amongst most at-risk populations and within different settings to enhance patient care.

Further research is warranted to determine the readiness and acceptance for the pharmacist to intervene in MetS from the pharmacists, physicians and patient's perspective.
Introduction
A preliminary search of the Cochrane Library of Systematic Reviews and Meta-analysis and the International Database of the Prospectively Registered Systematic Review in Health and Social Science (PROSPERO) using the terms, 'pharmacist' and 'metabolic syndrome', yielded no related published or ongoing systematic reviews. A search in Medline using the same terms identified a body of primary literature sufficient for a systematic review to be undertaken.
Aim of the review
The aim of this systematic review was to critically appraise, synthesise, and present the evidence on pharmacists' input to the screening, prevention and management of MetS. Specific objectives were to determine the types of pharmacist input reported in the studies; determine the impact of the reported input; characterise the populations who could benefit most from the input; and identify the facilitators and barriers to the effective implementation of pharmacist input.
Ethics approval
The Institutional Review Board (IRB) of the Medical Research Committee at Hamad Medical Corporation (HMC) in Qatar has confirmed that no ethics approval is required since this is a review.
Method
Protocol development
Inclusion and exclusion criteria
The standard systematic review PICO (population, intervention, comparator and outcomes) approach was employed [
30
].
Type of participants
All studies irrespective of population groups were included in the review.
Type of interventions
All pharmacist activities in the screening, prevention or management of MetS were included.
Type of comparator
All studies were included whether or not there was a control group comparing the impact with or without a pharmacist's input.
Type of outcome
All studies were assessing the pharmacists' input in the screening, management and prevention of MetS.
The outcomes were diverse and included the following: comparisons of different models of pharmacist input in MetS, descriptions of the process of development of the models, and the clinical outcomes of such interventions.
Types of studies to be included
All studies were included irrespective of design. The initial search indicated that the first relevant article was published in 2008; hence, all studies published between 2008 and March 2020, in the English language were included.
Exclusion Criteria
Grey literature was excluded due to the potentially limited quality and difficulties in searching and retrieval [
31
].
Search strategy and data sources
The electronic search strategy was guided by the "Peer Review of Electronic Search Strategies" (PRESS) checklist [
32
]. An initial search of Medline and Cumulative Index to Nursing and Allied Health Literature (CINAHL) was conducted, using keywords of 'pharma*' AND 'metabolic syndrome' to identify further keywords and search terms. The search string then applied to Medline, CINAHL, Cochrane, International Pharmaceutical Abstracts (IPA) and Google Scholar was ('Metabolic syndrome*' OR 'syndrome x' OR 'Insulin resistance syndrome*' OR 'Dysmetabolic syndrome*' OR "Hypertriglyceridemic waist*' OR 'Obesity syndrome*' OR 'Metabolic Cardiovascular Syndrome' OR 'Reaven Syndrome X' OR 'Atherothrombogenic syndrome') AND 'Pharm*'.
The reference lists of all identified articles were hand searched to identify any further relevant articles. Attempts were made to contact corresponding authors where data were missing or incomplete.
Quality assessment and data extraction
Eligible studies were assessed for quality using standardised quality assessment tools, the Cochrane bias assessment tool and the National Heart, Lung and Blood Institute (NHLBI) quality assessment tools [
33
,
34
]. Quality assessment using these tools was undertaken independently by two reviewers, with any disagreements resolved by discussion and referral to a third reviewer if necessary. RCTs were deemed of good quality if all criteria were of low bias risk as judged by the assessor, fair if the study had one high bias risk or two uncertain bias criteria, and poor if two or more high or uncertain bias criteria [
33
].
A data extraction tool was developed by adapting and customizing the "Data collection form for intervention review—RCTs and non-RCTs" from the Cochrane Collaboration [
35
]. Information was extracted by two independent reviewers.
Data synthesis
Given the lack of homogeneity of study aims, participants and outcome measures, a narrative approach to data synthesis was undertaken, using text and tables aligned to each of the review objectives.
Results
Discussion
This is the first published systematic review focusing specifically on pharmacist input in MetS. This review identified ten studies, four of which were RCTs. The most frequently reported inputs were in screening and in management, with prevention-related activities described in one study. The main population studied was adults with comorbidities putting them at higher risk of developing MetS. Beneficial impacts were described in terms of earlier diagnosis, potentially earlier intervention and improvement in the MetS parameters. Successful integration with the MDT, effective communication and accessibility of the community pharmacies were most likely facilitators towards the implementation with lack of funding the most likely barrier.
This review adhered to best practice in conducting and reporting a systematic review, as described in "Preferred Reporting Items for Systematic Reviews and Meta-Analyses" (PRISMA) [
49
] (Online Appendix A). The wide range of patient populations reported in the studies may enhance the generalisability of findings to at-risk populations. The main review limitation was restricting the review to papers published in English, resulting in four studies not being included. While the quality of the studies was generally good, reporting could be enhanced by encouraging the authors to adopt robust reporting criteria such as those recommended by the EQUATOR (Enhancing the QUAlity and Transparency Of health Research) network [
50
,
51
].
This systematic review has identified limited evidence upon which to inform the best practice of pharmacist input to MetS. The evidence base is derived from ten studies, only four of which were RCTs. Of the ten studies, there was marked variation in the aims and the models of care delivered, which significantly limits any potential for data pooling. Indeed, only four studies provided a comprehensive description of pharmacist interventions in terms of defined activities, training, processes, documentation, outcomes to be recorded and follow-ups.
A pharmacist-based intervention around MetS could be argued to be a complex intervention as defined by the UK Medical Research Council (MRC) which defines a 'complex intervention' as one with several interacting components, involving different behaviours and variability in outcomes [
52
]. The MRC complex intervention framework has four stages of development, feasibility/pilot testing, evaluation and implementation. It is worth noting that none of the ten studies in this systematic review included all these stages, with particular deficiencies around the development, feasibility and pilot testing stages. Ideally, the interventions should be developed and informed by evidence base in the literature (e.g. a systematic review), consider the theoretical basis for the intervention (e.g. behaviour change theory) and involve all stakeholders in development. Interventions developed according to this system are more likely to be successful compared to those developed pragmatically [
52
,
53
]. There is also a lack of consideration of the MRC framework in the primary studies included in previous systematic reviews describing pharmacists input to managing Mets elements such DM [
54
], HTN [
19
], obesity [
21
] and cardiovascular risk factors [
55
].
Despite the absence of application of the MRC framework, this review has provided some evidence of the benefit of the pharmacist input, particularly in the screening for and management of MetS. There were positive outcomes of earlier diagnosis, referrals to the pertinent physician and reaching the MetS parameter goals.
Obese adults with chronic comorbid conditions and paediatrics with risk factors were identified in this review to be among the beneficiary populations. These findings concur with at-risk populations highlighted by international organizations. Moreover, the American Heart Association (AHA) and NHLBI underpin obesity and prediabetes as the main risk factors to develop MetS, in addition to other risk factors such as a sedentary lifestyle, atherogenic diet and older age [
13
]. This was further supported by the IDF communication consensus worldwide de-finition of MetS in 2006. Central obesity and insulin resistance were defined as the most potent risk factors to develop MetS, in addition to other risk factors such as; ageing, genetic predisposition, sedentary lifestyle, proinflammatory status and reproductive hormonal alteration [
3
]. Hence, prioritizing the at-risk population is logical and would be recommended, especially at the initial phase of implementing pharmacist-led activity with limited resource and experience.
Additionally, patients receiving antipsychotic medications were recognized by the American Psychiatric Association (APA) as at-risk population for development of MetS due to the strong association with weight gain, dyslipidemia and hyperglycemia, and emphasized the importance of regular screening and monitoring of MetS [
56
]. This supports the fact that psychiatric patients were also among the beneficiary populations identified in this review.
The challenges facing the implementation of the pharmacist within the collaborative service involving different specialities, including mental health, are common. While the nature of the conditions and the interventions are varied, the need for effective collaboration remains. The findings of a systematic review of 18 studies reporting the facilitators and barriers to the implementation of collaborative practice in mental health were in line with the findings of the current review. To successfully implement a new collaborative service, Wood and colleagues emphasised the importance of adopting a multidisciplinary approach in mental health, including a pharmacist, maintaining effective communications, applying structured care plans and sustaining active patient's follow-up. On the other hand, the readiness of the organisations and staff for implementation and lack of knowledgeable, self-confident staff, adequate supervision and resources were the more pronounced barriers reported by Wood et al. [
57
].
A meta-synthesis of 29 qualitative studies categorized the influencing factors (facilitators and barriers) of implementing an advanced pharmacist run patient centred service into four categories; the patients' factors, the interpersonal communication factors, organizational and community factors [
58
]. Among the most prominent factors enhancing implementation of advanced pharmaceutical services were easy accessibility of the service, sufficient resources for IT programmes, educational materials, service promotion, staff incentives, effective collaboration and communication and a predesigned protocol to define the role of each member of the team. The lack of these factors was barriers to implementation of the services [
58
]. This is similar to findings in this reported systematic review, for example in our study, organizational factors such as limited resources were also a barrier to implementation of pharmacist input to MetS; the interpersonal communication factors such as effective collaboration and communication with other healthcare providers were considered a facilitator, and specific patient factors including the challenging behaviour of psychiatric patients was a barrier to the practical implementation (Table
4
).
The findings of this review are consistent with several published systematic reviews that have suggested that the MDT-pharmacist collaboration is the best model of care and facilitated the pharmacist's role in screening and management of patients with MetS. Showande et al. confirmed the effectiveness of collaborative pharmacist management of Type 1 and Type 2 DM with 41 RCTs included in a systematic review and meta-analysis [
54
]. Similarly, in an earlier published systematic review by Altowaijri et al. across different settings (inpatient, outpatients and community pharmacies), pharmacist involvement with the MDT in secondary prevention of cardiovascular diseases was associated with better control of the cardiovascular risk factors and improvement in the clinical outcome [
55
].
Of paramount importance, emerging studies have suggested strategies to overcome the barriers to the implementation of collaborative pharmacist service. A meta-synthesis of 29 qualitative studies as well as the collaborative practice agreement issued by the national center for chronic disease prevention and health promotion, both have advocated utilizing evidence-informed practice along with seeking support from a leading champion in the field were suggested to alleviate the organisational and staff reluctance toward the implementation of new collaborative services. A multidisciplinary approach with engaging patients and their families was recommended to increase the readiness of the staff and patients to accept the pharmacist service. Emphasizing the potential long-term healthcare cost reduction secondary to the pharmacist collaboration and having more than one source of funding and cutting unnecessary expenses were suggested to overcome the financial barrier [
59
,
60
].
Implications for the further research phase
This systematic review highlighted the gap in the literature and provided evidence about the more effective model-of-care for the pharmacist to intervene in MetS. Future research is warranted to define the potential patient-centred model of care that should be systematically developed, evaluated, implemented and refined based on the MRC evaluation framework. Additionally, further qualitative research to explore in-depth the patients' behaviours and health care professionals' perception of the MDT collaborative practice will inform the development of a successful model of care.
Conclusion
The limited number of studies describing pharmacist input in MetS provides some evidence of positive outcomes from screening and management as part of collaborative practice. Further work is required to provide more robust evidence of effectiveness and cost-effectiveness, while considering key barriers, to enable integration within standard practice.
Conflicts of interest
The authors declare that they have no conflict of interest.
Open Access
This article is licensed under a Creative Commons Attribution 4.0 International License, which permits use, sharing, adaptation, distribution and reproduction in any medium or format, as long as you give appropriate credit to the original author(s) and the source, provide a link to the Creative Commons licence, and indicate if changes were made. The images or other third party material in this article are included in the article's Creative Commons licence, unless indicated otherwise in a credit line to the material. If material is not included in the article's Creative Commons licence and your intended use is not permitted by statutory regulation or exceeds the permitted use, you will need to obtain permission directly from the copyright holder. To view a copy of this licence, visit
http://​creativecommons.​org/​licenses/​by/​4.​0/​
.
Publisher's Note
Springer Nature remains neutral with regard to jurisdictional claims in published maps and institutional affiliations.