01.02.2013 | Review Article | Ausgabe 2/2013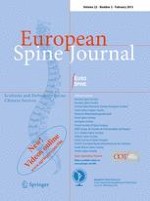 A systematic review of the clinical effectiveness of EOS 2D/3D X-ray imaging system
Zeitschrift:
Autoren:

Ros Wade, Huiqin Yang, Claire McKenna, Rita Faria, Nigel Gummerson, Nerys Woolacott
Abstract
Purpose
To evaluate the available evidence for the clinical effectiveness of the EOS® 2D/3D X-ray imaging system for the evaluation and monitoring of scoliosis and other relevant orthopaedic conditions.
Methods
A systematic review of studies of EOS®, compared with standard X-ray film, computed radiography or digital radiography, of patients with orthopaedic conditions was undertaken. Ten electronic databases were searched. The quality of the included studies was assessed and a narrative synthesis undertaken.
Results
Three small, limited quality studies, primarily of children with scoliosis, were identified. No patient health outcomes were reported. Spinal image quality was comparable or better overall with EOS®. Radiation dose was considerably lower with EOS® than X-ray film or computed radiography; the mean entrance surface dose was over five times lower with EOS® for the posteroanterior spine radiograph and over six times lower for the lateral spine radiograph.
Conclusions
The available clinical evidence for EOS® is limited to establishing its basic technical ability. The technical advancements associated with EOS® (the ability to generate a full body scan and to construct a three-dimensional model from synchronously acquired lateral and posteroanterior images) have not been evaluated in terms of their ability to improve patient outcomes. Whilst radiation dose is a concern for orthopaedic patients who require repeated imaging, it is difficult to quantify the reductions in radiation dose seen with EOS® in terms of patient health benefits. Clinical studies that investigate the impact of EOS® on patient management are required.