04.01.2019 | Reviews | Ausgabe 1/2019 Open Access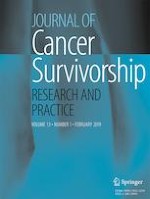 A systematic review of the feasibility, acceptability, and efficacy of online supportive care interventions targeting men with a history of prostate cancer
Zeitschrift:
Autoren:

Cynthia C. Forbes, Amy Finlay, Megan McIntosh, Shihab Siddiquee, Camille E. Short
Wichtige Hinweise
Publisher's Note
Springer Nature remains neutral with regard to jurisdictional claims in published maps and institutional affiliations.
Introduction
Method
The protocol for this review was registered a priori with PROSPERO (ID CRD42017056319). The conduct and reporting of the review adheres to the Preferred Reporting Items for Systematic Reviews and Meta-analyses guidelines [
28
]. A standardized form (based on ERC Cochrane template for intervention reviews [
29
]) was used to extract and review all data. A copy of the form is available via our open science framework page (
http://​osf.​io/​unj5m
).
Eligibility criteria
Inclusion and exclusion criteria were established a priori before conducting database searches. Studies were eligible for inclusion if they (1) examined the feasibility, acceptability, or efficacy of at least one online intervention designed to improve supportive care outcomes for prostate cancer survivors as a major part of the study; (2) presented outcome data collected from prostate cancer survivors only; and (3) evaluated efficacy outcomes using a randomized trial and/or feasibility/acceptability using a single-arm or randomized trial design. Studies were excluded if (1) they included mixed samples (e.g., survivors and caregivers, or survivors of mixed cancer types) and did not report study outcomes specifically for prostate cancer survivors; (2) the intervention being evaluated was targeted primarily at clinicians or caregivers rather than prostate cancer survivors; (3) findings were only explored using qualitative research methods; (4) findings were published in any language other than English; or (5) if findings were available as a conference abstract only.
Search strategy
Studies were primarily identified through a structured search of all publication years (until April 6, 2017) in the following electronic databases: PubMed, Embase, and PsycINFO. The search strategy was developed in consultation with a specialist librarian at the University of Adelaide. Mesh terms in PubMed and equivalent terms in other databases were identified and used to search for all key concepts. Searches restricted to abstract and title were also undertaken for selected keywords. Boolean logic was used to combine the terms. The search strategy was piloted and refined in each database to achieve a balance between sensitivity (identifying high numbers of relevant articles) and specificity (identifying a low number of irrelevant articles) [
30
]. As a result, in PubMed and Embase, search terms relating to prostate cancer AND ehealth AND intervention evaluation AND supportive care outcomes were searched. Whereas, in PsycINFO, only terms related to prostate cancer AND ehealth AND intervention evaluation were searched. The search terms used for each database are detailed in additional file 1. The database searches were conducted by a single author (CES). In addition to the database search, endnote libraries of authors were reviewed and citation chaining was employed to identify additional articles of interest [
30
].
Study selection
All articles identified through the databases and hand searches were imputed into a citation manager. Duplicate records were then counted and removed. Two authors (CES and CF) independently screened all articles against the inclusion and exclusion criteria using a standardized form [
29
], taking title, abstract, and full-text into account. Any disagreements were discussed and resolved by consensus.
Data extraction
A data extraction form was developed by the research team to extract information about the study setting, participant characteristics, study design, intervention characteristics, data collection methods, and findings relating to feasibility, acceptability, and efficacy of the intervention. Feasibility and acceptability data was extracted for all included studies were reported. Efficacy data was only extracted for randomized trials. In cases where pilot data and definitive RCT data were both available (and focused on the same outcomes) only RCT data was extracted. If findings were unclear based on results reported in the manuscript, corresponding authors were emailed and asked to provide clarification.
The extraction form followed a recommended template [
29
] and was pilot tested by two reviewers (CF, CES) independently (on three included articles) to ensure it captured all relevant information and was easy to use. Minor changes were made after reviewing the first two articles, and no further changes were considered necessary after reviewing the third article. Data were then extracted using the form by a single reviewer (CF or CES). A second reviewer randomly selected four articles (i.e., 25%) and reviewed the data extracted (CF or CES). As there were no discrepancies, data extraction by a second reviewer for the remaining articles was considered unnecessary.
Methodological review
Methodological quality was assessed independently by two reviewers (CES and MM or CF and AF) using an existing tool [
31
]. Minor modifications to the tool were made to reflect current best practice recommendations regarding confounders in randomized trials [
32
,
33
] and practical considerations surrounding blinding in psychological and health service research. Specifically, the risk of bias for confounding was based on whether likely confounders were accounted for at randomization or during data analysis, regardless of differences in participant characteristics at baseline. As blinding is difficult in this area, studies were given a 'moderate' rating by default [
34
]. Additionally, bias relating to dropout was assessed based on the immediate post-intervention follow-up rather than the final data collection point. This was to ensure that studies containing multiple follow-up points were not systematically rated as more biased compared to studies only reporting immediate post-intervention outcomes. Bias relating to data collection methods was assessed based on the primary outcome of interest for randomized controlled trials and for the main acceptability outcome measure for all other designs. All discrepancies were resolved by consensus.
Outcomes
The following study integrity and recruitment feasibility outcomes were assessed: (1) the number of participants to enter the study, (2) reported recruitment obstacles, (3) representative samples, (4) if the intervention was implementation as intended, and (5) cost of implementation. Acceptability outcomes assessed included (1) intervention adherence rates; (2) assessments of participant engagement, acceptability, and appeal; (3) any intervention burden; and (4) number of adverse events. As with previous research, a 40% recruitment rate, 70% retention rate, and a 70% average attendance rate were deemed acceptable cut-points to assess feasibility [
11
,
35
]. Outcomes relating to efficacy were varied and depended on the focus of the intervention. In each case, the change in supportive care outcome relative to the comparison group was reported. Efficacy outcomes were reported for randomized controlled trials (RCTs) only. Current availability of online interventions was determined by visiting the study URL, if included in the study, or by web search.
Results
Discussion
The aim of this systematic review was to examine the feasibility, acceptability, and efficacy of online supportive care programs for men with prostate cancer. Overall, the results showed that using online delivery can be feasible and acceptable to men with prostate cancer; however, the field is still in its infancy. We found 16 studies that met our criteria among which 10 were randomized controlled trials. The results showed trends toward the programs being efficacious; however, among these trials, few were large enough to make meaningful conclusions on the efficacy of online supportive care programs, and selection bias was a consistent issue.
While this study has been the first to summarize online supportive care interventions for men with prostate cancer, there are some study limitations that need to be mentioned. We understand that including only studies published in English reduced potential access to the total number of globally published studies. Furthermore, this study contained a high proportion of one-time clinical treatment decision support tools, and most studies had small samples or were pilot trials. This reflects the lack of variety of studies available, likely due to the infancy of this field and known issues with recruitment. Strengths of this study include a-priori protocol registration, the use of a standardized data-extraction form, the depth and range of data extracted, and synthesized and corroboration and consensus between a number of researchers during the data extraction and bias tool implementation. This allowed balanced assessments in which studies were fairly examined during the extraction and quality assessment stages of the review.
This review provides preliminary evidence in modest support of online supportive care programs for men with prostate cancer. Our conclusions are limited by the small number and weak methodological quality of studies found. A consistent call for well-documented, rigorously conducted studies has been noted in previous reviews and is echoed here.
Compliance with ethical standards
Conflict of interest
The authors declare that they have no conflict of interest.
Ethical approval
This review does not contain any studies with human participants performed by any of the authors.
Open Access
This article is distributed under the terms of the Creative Commons Attribution 4.0 International License (http://creativecommons.org/licenses/by/4.0/), which permits unrestricted use, distribution, and reproduction in any medium, provided you give appropriate credit to the original author(s) and the source, provide a link to the Creative Commons license, and indicate if changes were made.
Publisher's Note
Springer Nature remains neutral with regard to jurisdictional claims in published maps and institutional affiliations.