30.05.2019 | Review Paper | Ausgabe 8/2019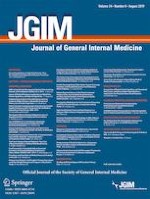 A Systematic Review of the Impact of Patient–Physician Non-English Language Concordance on Quality of Care and Outcomes
Zeitschrift:
Autoren:

MD MPH Lisa Diamond, BS Karen Izquierdo, MD Dana Canfield, MLIS Konstantina Matsoukas, MD MS Francesca Gany
Wichtige Hinweise
Electronic supplementary material
Publisher's Note
Springer Nature remains neutral with regard to jurisdictional claims in published maps and institutional affiliations.
Abstract
Background
Approximately 25 million people in the USA are limited English proficient (LEP). When LEP patients receive care from physicians who are truly language concordant, some evidence show that language disparities are reduced, but others demonstrate worse outcomes. We conducted a systematic review of the literature to compare the impact of language-concordant care for LEP patients with that of other interventions, including professional and ad hoc interpreters.
Methods
Data was collected through a systematic review of the literature using PubMed, PsycINFO, Web of Science, Cochrane Library, and EMBASE in October 2017. The literature search strategy had three main components, which were immigrant/minority status, language barrier/proficiency, and healthcare provider/patient relationship. The quality of the articles was appraised using the Downs and Black checklist.
Results
The 33 studies were grouped by the outcome measure studied, including quality of care (subdivided into primary care, diabetes, pain management, cancer, and inpatient), satisfaction with care/communication, medical understanding, and mental health. Of the 33, 4 (6.9%) were randomized controlled trials and the remaining 29 (87.9%) were cross-sectional studies. Seventy-six percent (25/33) of the studies demonstrated that at least one of the outcomes assessed was better for patients receiving language-concordant care, while 15% (5/33) of studies demonstrated no difference in outcomes, and 9% (3/33) studies demonstrated worse outcomes in patients receiving language-concordant care.
Discussion
The findings of this review indicate that, in the majority of situations, language-concordant care improves outcomes. Although most studies included were of good quality, none provided a standardized assessment of provider language skills. To systematically evaluate the impact of truly language-concordant care on outcomes and draw meaningful conclusions, future studies must include an assessment of clinician language proficiency. Language-concordant care offers an important way for physicians to meet the unique needs of their LEP patients.