01.12.2019 | Research | Ausgabe 1/2019 Open Access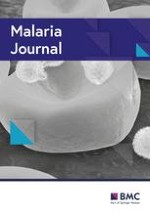 A systematic review on anti-malarial drug discovery and antiplasmodial potential of green synthesis mediated metal nanoparticles: overview, challenges and future perspectives
Zeitschrift:
Autoren:

Loick P. Kojom Foko, Francois Eya'ane Meva, Carole E. Eboumbou Moukoko, Agnes A. Ntoumba, Marie I. Ngaha Njila, Philippe Belle Ebanda Kedi, Lawrence Ayong, Leopold G. Lehman
Wichtige Hinweise
Loick P. Kojom Foko, Francois Eya'ane Meva and Carole E. Eboumbou Moukoko contributed equally to this work
Supplementary information
Publisher's Note
Springer Nature remains neutral with regard to jurisdictional claims in published maps and institutional affiliations.
Abstract
Background
The recent emergence in Southeast Asia of artemisinin resistance poses major threats to malaria control and elimination globally. Green nanotechnologies can constitute interesting tools for discovering anti-malarial medicines. This systematic review focused on the green synthesis of metal nanoparticles as potential source of new antiplasmodial drugs.
Methods
Seven electronic database were used following the Preferred Reporting Items for Systematic Reviews and Meta-Analyses (PRISMA) guidelines.
Results
A total of 17 papers were included in the systematic review. 82.4% of the studies used plant leaves to produce nanoparticles (NPs) while three studies used microorganisms, including bacteria and fungi. Silver was the main metal precursor for the synthesis of NPs. The majority of studies obtained nanoparticles spherical in shape, with sizes ranging between 4 and 65 nm, and reported no or little cytotoxic effect of the NPs. Results based on 50% inhibitory concentration (IC50) varied between studies but, in general, could be divided into three NP categories; (i) those more effective than positive controls, (ii) those more effective than corresponding plant extracts and, (iii) those less effective than the positive controls or plant extracts.
Conclusions
This study highlights the high antiplasmodial potential of green-synthesized metal nanoparticles thereby underscoring the possibility to find and develop new anti-malarial drugs based on green synthesis approaches. However, the review also highlights the need for extensive in vitro and in vivo studies to confirm their safety in humans and the elucidation of the mechanism of action.
Graphical abstract
×