28.11.2016 | Original Research | Ausgabe 2/2017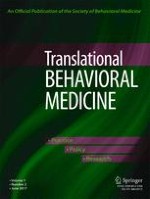 A telephone-based intervention to promote physical activity during smoking cessation: a randomized controlled proof-of-concept study
Zeitschrift:
Autoren:

Ph. D Uma S. Nair, Ph. D Freda Patterson, Ph. D Daniel Rodriguez, Ph. D Bradley N. Collins
Wichtige Hinweise
Implications
Policy:
Resources should be devoted to utilizing quitlines to promote multiple health behaviors along with smoking cessation efforts
Research:
Telephone-based interventions may be utilized to promote physical activity among physically inactive smokers, thereby reducing overall unhealthy lifestyle-related disease burden.
Practice:
A telephone-based counseling intervention that integrates multiple health behavior change within the context of nicotine treatment can be adopted and disseminated through quitlines
Findings from this study have not been previously published and the manuscript is not being simultaneously submitted elsewhere. Preliminary data from this study was presented as a poster at the Annual Conference for the Society for Research in Nicotine and Tobacco (2015). All co-authors have approved the manuscript for publication and agree to its submission. As corresponding author, I have full control of all primary data and agree to allow the journal to review the data if requested.
Abstract
Smoking and physical inactivity contribute to disproportionate disease burden among underserved adults. Telephone-based interventions (quitlines) are becoming the standard care for addressing smoking. There is increasing interest to determine whether quitlines can be utilized to administer interventions for other unhealthy behaviors. This study aims to examine the proof-of-concept and potential efficacy of a telephone-based behavioral counseling intervention to boost daily low-to-moderate physical activity among low-income, physically inactive smokers. Participants (
N
= 101) were randomized to receive 4 weeks of counseling prior to their smoking quit day that included either standard smoking cessation counseling (control) or the Step-up to Quit (SUTQ) intervention. SUTQ promoted daily walking to foster physical activity as a primary smoking urge management strategy and facilitate incremental increases in daily steps with the goal of achieving 7500 steps/day by the quit day in week 4. Exploratory structural equation modeling tested SUTQ effects on six measures of low-to-moderate physical activity (primary outcome) and smoking cue reactivity (secondary outcome) simultaneously in a single multivariate model with controlling variables. The sample was 51 % female and 77 % African-American, with a mean age of 42.1 years (SD = 10.9). Compared to the control condition, SUTQ intervention was associated with greater physical activity at week 4 (
b
= 0.51,
z
= 1.71,
p
= 0.08), with between-group differences sustained at follow-up. At week 4, the SUTQ group had higher 7-day mean steps/day (M = 7,207.25, SD = 4,276.03) than controls (M = 3,947.03, SD = 3,655.03) (t = 3.35; p < .01); and had more participants reach the >7500 steps/day goal (49% vs. 11 %, c2 = 10.78; p < .01), a difference that was sustained at 1-month follow-up (X2 = 9.04, p < .01) Effects of SUTQ treatment on cue reactivity were in the hypothesized direction but not significant (
b
= −0.29;
z
= −1.09,
p
= 0.27). To our knowledge, this is the first study to promote physical activity using telephone counseling in an underserved population of smokers known to have greater challenges with physical activity adoption and smoking cessation. The SUTQ approach suggests that integration of physical activity advice and support within the context of smoking cessation treatment has the potential to promote physical activity among smokers intending to quit.