01.12.2017 | Research | Ausgabe 1/2017 Open Access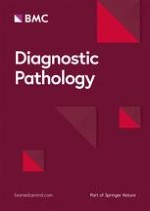 A transcriptome profile in hepatocellular carcinomas based on integrated analysis of microarray studies
Zeitschrift:
Autoren:

Feifei Wang, Ruliang Wang, Qiuwen Li, Xueling Qu, Yixin Hao, Jingwen Yang, Huixia Zhao, Qian Wang, Guanghui Li, Fengyun Zhang, He Zhang, Xuan Zhou, Xioumei Peng, Yang Bian, Wenhua Xiao
Wichtige Hinweise
Electronic supplementary material
The online version of this article (doi:
10.​1186/​s13000-016-0596-x
) contains supplementary material, which is available to authorized users.
Abbreviations
BioGRID
Biological General Repository for Interaction Datasets
DEG
Differential expressed genes
HCC
Hepatocellular carcinomas
KEGG
Kyoto Encyclopedia of Genes and Genomes
PPI
Protein-protein interaction
RT-PCR
Real time polymerase chain reaction
Background
Methods
Results
Discussion
It is generally accepted that the altered gene expression pattern of a cancer tissue should be associated with the initiation and maintenance of the malignant phenotype. Previous studies have identified several HCC gene expression profiles [
18
–
21
]. However, there wasn't a common pattern among disparate studies for HCC. While in this study, we integrated different microarray studies to identify a precise gene expression profile for HCC with more statistical power supported by large sample size. In the current study, an integrated analysis of seven HCC microarray datasets was conducted, and showed that 1167 DEGs were identified, among which 628 genes were up-regulated and 539 genes were down-regulated. These genes mainly participated in the process of cell cycle, oocyte meiosis, and oocyte maturation mediated by progesterone.
In the current study, further annotation and PPI network analysis of the 20 most significant DEGs were conducted. Most of the 20 genes were involved in the pathways of cell cycle, cytokines-cell factor receptor interactions, and intracellular signaling cascades, and their involvements in HCC have also been reported [
22
–
26
]. The functions of the 20 genes were in accordance with the results of GO and KEGG analysis. Three genes, including
CCT3
,
NDC80
, and
ASPM
were proved to be highly connected in the PPI network.
CCT3,
a subunit of CCT cluster, plays a role in assisting the folding of proteins involved in important biological processes.
CCT3
was found to display a significantly different gene expression level in HCC compared to adjacent non-malignant liver tissues, arising from the occurrence of the amplicon 1q21-q22 [
27
], which is consistent with our result of RT-PCR validation. In addition, other genes' expression status detected by RT-PCR was totally in accordance with the result of integrated analysis, suggesting that the bioinformatics method of integrated analysis was credible.
ASPM
was highly expressed in fetal tissues but lowly in most adult tissues. Our result and previous evidences [
23
] found that
ASPM
and
NEK2
mRNA was over-expressed in HCC. Moreover, we found that
ASPM
,
NEK
and
CCT3
over-expression present significant association with overall survival of HCC patients based on TCGA validation, predicting enhanced invasive/metastatic potential of HCC and higher risk of early tumor recurrence.
ASPM
,
NEK
and
CCT3
may be applied as potential prognostic biomarkers for HCC.
CAP2
overexpression was also discovered in our study, and
CAP2
has been suggested as a candidate biomarker of HCC owing to elevated level in the serum of HCC patients [
28
].
Among the 10 most significantly down-regulated genes,
DCN
, an extracellular matrix proteoglycan, has important biological functions in growth, development and diseases. Loss of the decorin gene, which are known to interfere with cellular events of tumorigenesis mainly by blocking various receptor tyrosine kinases such as EGFR, Met, IGF-IR, PDGFR and VEGFR2, is permissive for tumorigenic growth of HCC with decreasing levels of the cyclin-dependent kinase inhibitor p21
WAF1/CIP1
, suggesting potential utilization of
DCN
as an antitumor agent in HCC [
29
].
RND3
down-regulation in HCC patients has been reported by several studies [
26
,
30
,
31
], and may be a metastasis suppressor gene in HCC.
However, the expression patterns of four genes among the 20 most significant DEGs in the current study were inconsistent with or ignored in the previous studies, including
TBCE
,
SPINT2
,
ECM1
, and
KZAN
. The function of
KZAN
was not identified, whereas the other three genes were all comprehensively studied. In the current study, the inconsistent results might inspire their roles in the oncogenesis and development of HCC with some novel views.
SPINT2
encodes a transmembrane protein with two extracellular Kunitz domains that inhibits a variety of serine proteases. The protein product of
SPINT2
inhibits HGF activator, which prevents the formation of active hepatocyte growth factor, has been taken as a putative tumor suppressor [
32
]. Previous studies mainly focus on the methylation of
SPINT2
in HCC instead of its expression [
33
,
34
]. Nevertheless, we have found that the expression level of
SPINT2
was significantly suppressed in HCC expression profiles. The pattern was consistent with that in cell renal cell carcinoma [
32
], which might indicate its potential application as a novel HCC suppressor.
ECM1
encodes a soluble protein that is involved in endochondral bone formation, angiogenesis, and tumor biology. It interacts with a variety of extracellular and structural proteins, contributing to the maintenance of skin integrity and homeostasis [
35
]. The expression of
ECM1
is reported to be significantly up-regulated in HCC patients [
24
], however, the current analyses of expression profiles showed that expression of
ECM1
was suppressed in HCC patients and were confirmed using RT-PCR. The discrepancy revealed the complicated functions of
ECM1
in the oncogenesis and development of HCC.
Conclusions
In short, the current study gave an explicit elucidation of dysregulated genes in HCC by the integrated analysis of microarray datasets in GEO database, the biological function of these genes was significantly enriched in cell cycle. The results of RT-PCR and TCGA validation were consistent with that of integrated analysis, indicating the high credibility of this integrated analysis method. In addition, our study showed that some genes could be potentially valuable in the clinical diagnosis (such as
ASPM, NEK2
and
CCT3
) and anticancer therapy (such as
DCN, RND3
) for HCC. Our study improved the understanding of the transcriptome status of HCC, and might shed a light on the further investigation on the mechanisms of HCC.
Acknowledgements
Not applicable.
Availability of data and materials
Authors' contributions
XWH conceived of the study. WFF, WRL and QXL carried out data analysis, participated in its design and coordination and drafted the manuscript. LQW, HYX, YJW and ZHX collected the transcriptome data. WQ, LGH, ZFY and ZH performed the analysis of raw data. ZX, PXM, and BY carried out Real time PCR. All authors read and approved the final manuscript.
Competing interests
The authors declare that they have no competing interests.
Consent for publication
Not applicable.
Ethics approval and consent to participate
This study was approved by the First Affiliated Hospital of PLA General Hospital ethics committee (Reference number: 201403166). Written informed consents were obtained from the enrolled patients.
Open Access
This article is distributed under the terms of the Creative Commons Attribution 4.0 International License (
http://​creativecommons.​org/​licenses/​by/​4.​0/​
), which permits unrestricted use, distribution, and reproduction in any medium, provided you give appropriate credit to the original author(s) and the source, provide a link to the Creative Commons license, and indicate if changes were made. The Creative Commons Public Domain Dedication waiver (
http://​creativecommons.​org/​publicdomain/​zero/​1.​0/​
) applies to the data made available in this article, unless otherwise stated.