15.07.2020 | Original Paper | Ausgabe 6/2020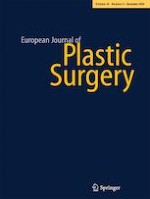 A UK based multi-centre prospective study of microvascular free-flap surgery
Zeitschrift:
Autoren:

Hywel Room, Oliver Sawyer, Claire Sethu, Hisham Taha, Jurga Pikturnaite, Sameer Gujral, Juliana Hughes
Wichtige Hinweise
Key Points
• UK-specific prospective study examining free flap plastic surgery outcomes.
• Patient and technical factors associated with total and partial free flap failure, flap thrombosis and post-operative haematoma analysed by logistic regression analysis.
• Obesity and prior recipient site radiotherapy associated with higher rates of total and partial free flap failure.
• Establishes UK-specific baseline for free flap surgical outcomes.
Publisher's note
Springer Nature remains neutral with regard to jurisdictional claims in published maps and institutional affiliations.
Abstract
Background
Studies carried out in 1998 by Khouri et al. established a benchmark for free flap survival. Whilst individual factors related to free flap survival have been examined since, there has been little contemporaneous data re-examining overall flap survival rates and factors related to complications to assess progress in the field and specifically European or UK practice.
Methods
Six plastic surgery units from four regions within the South West UK regional collaboration group prospectively collected data on all free flap surgery performed in a 6-month period between October 2013 and April 2014.
Results
Data on 264 free flaps were prospectively collected. Total flap failure was 2.7% and partial flap failure was 4.5%. Regression analysis identified obesity and previous recipient site radiotherapy as the most important factors in flap failure. The rate of intra-operative and post-operative flap thrombosis was 3.8% and 6.4%, respectively, and was associated with lower limb recipient site and surgeon grade. Post-operative haematoma occurred in 4.2%, associated with recipient site radiotherapy.
Conclusions
Our study establishes a UK baseline for standards in free flap surgery. With the recent introduction of a UK Free Flap Surgery Registry, this baseline will support unit audit and improvements in free flap surgery.
Level of evidence: Level III, risk/prognostic study.