19.05.2016 | Original Article | Ausgabe 8/2016 Open Access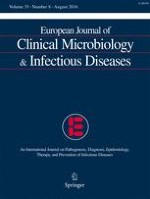 A wide spectrum of fastidious and ampicillin-susceptible bacteria dominate in animal-caused wounds
Autoren:

O. Gustavsson, A. V. Johansson, H.-J. Monstein, L. E. Nilsson, A. Bredberg
Wichtige Hinweise
O. Gustavsson, A. V. Johansson, H.-J. Monstein, L. E. Nilsson and A. Bredberg contributed equally to this work.
Abstract
The main purpose of this study was to assess the actual occurrence of Gram-negative oxidase-positive bacteria (GNOP) in human wounds caused by animals, mostly cat and dog bites and scratches, and with signs of infection. We report a prospective series of 92 wound samples. Routine culturing was combined with a procedure optimised for fastidious GNOP. All GNOP isolates were identified by 16S rDNA sequencing to the species level. We observed a more prominent role of GNOP, including at least 30 species mostly in the families Flavobacteriaceae, Neisseriaceae and Pasteurellaceae, and less of
Staphylococcus aureus
and streptococci. The antibiotic susceptibility pattern was investigated, as GNOP are associated with sudden onset of serious infections, making an early decision on antibiotic treatment vital. All GNOP isolates judged to be clinically relevant displayed susceptibility to ampicillin and meropenem, but resistance to oxacillin, clindamycin and gentamicin was frequent. Our findings emphasise the need to cover GNOP as recommended in guidelines, and not only common wound pathogens, when treating an animal-caused wound.