01.03.2012 | Basic Neurosciences, Genetics and Immunology - Original Article | Ausgabe 3/2012 Open Access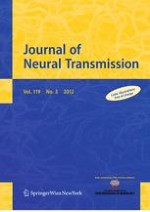 A53T-alpha-synuclein-overexpression in the mouse nigrostriatal pathway leads to early increase of 14-3-3 epsilon and late increase of GFAP
Zeitschrift:
Autoren:

Alexander Kurz, Caroline May, Oliver Schmidt, Thorsten Müller, Christian Stephan, Helmut E. Meyer, Suzana Gispert, Georg Auburger, Katrin Marcus
Wichtige Hinweise
Electronic supplementary material
The online version of this article (doi:
10.​1007/​s00702-011-0717-3
) contains supplementary material, which is available to authorized users.
A. Kurz, C. May, G. Auburger and K. Marcus contributed equally to this work.
Abstract
Parkinson's disease (PD) is a neurodegenerative disorder frequent at old age characterized by atrophy of the nigrostriatal projection. Overexpression and A53T-mutation of the presynaptic, vesicle-associated chaperone alpha-synuclein are known to cause early-onset autosomal dominant PD. We previously generated mice with transgenic overexpression of human A53T-alpha-synuclein (A53T-SNCA) in dopaminergic substantia nigra neurons as a model of early PD. To elucidate the early and late effects of A53T-alpha-synuclein on the proteome of dopaminergic nerve terminals in the striatum, we now investigated expression profiles of young and old mice using two-dimensional fluorescence difference in gel electrophoresis (2D-DIGE) and mass spectrometry. In total, 15 proteins were upregulated and 2 downregulated. Mice before the onset of motor anomalies showed an upregulation of the spot containing 14-3-3 proteins, in particular the epsilon isoform, as well as altered levels of chaperones, vesicle trafficking and bioenergetics proteins. In old mice, the persistent upregulation of 14-3-3 proteins was aggravated by an increase of glial fibrillary acidic protein (GFAP) suggesting astrogliosis due to initial neurodegeneration. Independent immunoblots corroborated GFAP upregulation and 14-3-3 upregulation for the epsilon isoform, and also detected significant eta and gamma changes. Only for 14-3-3 epsilon a corresponding mRNA increase was observed in midbrain, suggesting it is transcribed in dopaminergic perikarya and accumulates as protein in presynapses, together with A53T-SNCA. 14-3-3 proteins associate with alpha-synuclein in vitro and in pathognomonic Lewy bodies of PD brains. They act as chaperones in signaling, dopamine synthesis and stress response. Thus, their early dysregulation probably reflects a response to alpha-synuclein toxicity.