01.12.2017 | Research | Ausgabe 1/2017 Open Access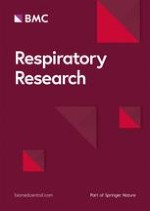 ABCB1 and ABCG2 drug transporters are differentially expressed in non-small cell lung cancers (NSCLC) and expression is modified by cisplatin treatment via altered Wnt signaling
Zeitschrift:
Autoren:

M. Vesel, J. Rapp, D. Feller, E. Kiss, L. Jaromi, M. Meggyes, G. Miskei, B. Duga, G. Smuk, T. Laszlo, I. Karner, J.E. Pongracz
Wichtige Hinweise
Electronic supplementary material
The online version of this article (doi:
10.​1186/​s12931-017-0537-6
) contains supplementary material, which is available to authorized users.
Abstract
Background
Lung cancer (LC) is still the most common cause of cancer related deaths worldwide. Non-small cell lung cancer (NSCLC) accounts for 85% of all LC cases but is not a single entity. It is now accepted that, apart from the characteristic driver mutations, the unique molecular signatures of adeno- (AC) and squamous cell carcinomas (SCC), the two most common NSCLC subtypes should be taken into consideration for their management. Therapeutic interventions, however, frequently lead to chemotherapy resistance highlighting the need for in-depth analysis of regulatory mechanisms of multidrug resistance to increase therapeutic efficiency.
Methods
Non-canonical Wnt5a and canonical Wnt7b and ABC transporter expressions were tested in primary human LC (
n
 = 90) resections of AC and SCC. To investigate drug transporter activity, a three dimensional (3D) human lung aggregate tissue model was set up using differentiated primary human lung cell types. Following modification of the canonical, beta-catenin dependent Wnt pathway or treatment with cisplatin, drug transporter analysis was performed at mRNA, protein and functional level using qRT-PCR, immunohistochemistry, immune-fluorescent staining and transport function analysis.
Results
Non-canonical Wnt5a is significantly up-regulated in SCC samples making the microenvironment different from AC, where the beta-catenin dependent Wnt7b is more prominent. In primary cancer tissues ABCB1 and ABCG2 expression levels were different in the two NSCLC subtypes. Non-canonical rhWnt5a induced down-regulation of both ABCB1 and ABCG2 transporters in the primary human lung aggregate tissue model recreating the SCC-like transporter pattern. Inhibition of the beta-catenin or canonical Wnt pathway resulted in similar down-regulation of both ABC transporter expression and function. In contrast, cisplatin, the frequently used adjuvant chemotherapeutic agent, activated beta-catenin dependent signaling that lead to up-regulation of both ABCB1 and ABCG2 transporter expression and activity.
Conclusions
The difference in the Wnt microenvironment in AC and SCC leads to variations in ABC transporter expression. Cisplatin via induction of canonical Wnt signaling up-regulates ABCB1 and ABCG2 drug transporters that are not transporters for cisplatin itself but are transporters for drugs that are frequently used in combination therapy with cisplatin modulating drug response.