01.12.2017 | Research article | Ausgabe 1/2017 Open Access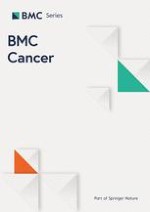 ABCG2 is a potential prognostic marker of overall survival in patients with clear cell renal cell carcinoma
Zeitschrift:
Autoren:

Haofei Wang, Fangxiu Luo, Zhe Zhu, Zhaoping Xu, Xin Huang, Renyi Ma, Hongchao He, Yu Zhu, Kun Shao, Juping Zhao
Wichtige Hinweise
Electronic supplementary material
The online version of this article (doi:
10.​1186/​s12885-017-3224-6
) contains supplementary material, which is available to authorized users.
Abbreviation
ABCG2
ATP-binding cassette sub-family G member 2
BUC
Bladder Urothelial Carcinoma
KIRC
Kidney Renal Clear cell carcinoma
KRPCC
Kidney Renal Papillary Cell Carcinoma
OSC
Ovarian Serous Cystadenocarcinoma
TKIs
Tyrosine-Kinase Inhibitors
UCEC
Uterine Corpus Endometrial Carcinoma
Background
Renal cell carcinoma (RCC) is the most common type of malignant renal cancer in adults, responsible for approximately 90–95% of the diagnosed cases [
1
]. Approximatelys, 25–30% patients present metastasis at the time of diagnosis and 30% of the patients relapse after renal surgery [
2
]. To date, surgery is the primary treatment for RCC, and the five-year survival rate is 65–90%; however, the outcome is considerably reduced in metastatic cases [
3
]. RCC is relatively resistant to radiotherapy and chemotherapy with only a 4–5% response rate [
4
,
5
]. Some cases respond to immunotherapy with a 30% response rate [
6
]. By 2013, with the advancement in targeted therapy, such as Sunitinib and Sorafenib, the average survival time was improved from 12 months to 22 months in patients with metastatic RCC [
7
,
8
]. However, the five-year overall survival for metastatic RCC remains <10% [
3
].
ATP-binding cassette sub-family G member 2 (ABCG2) was first named as Breast Cancer Resistance Protein in the 1990s when it was discovered in MCF-7 breast cancer cell line co-selected for doxorubicin in the presence of verapamil [
9
]. Following its discovery, ABCG2 was cloned, characterized, and added as the second member of the G subfamily of ABC transporters, as a semi-transport protein [
10
]. ABCG2 has main effect on effluxing drugs at major physiological barriers, such as blood-brain, blood-testis and maternal-fetal barriers. Similar function of ABCG2 is validated in effluxing of xenobiotics at small intestine and kidney proximal tubule brush borders. ABCG2 transports a wide variety of substrates including several anticancer agents and is one of the most significant contributors to multidrug resistance in cancer cells [
10
,
11
].
Although ABCG2 has been studied in diverse fields, the precise function and effect in RCC are yet poorly understood [
12
]. Due to the heterogeneous high expression pattern of ABCG2 in the kidney, researchers have speculated that this protein may be actively involved in drug resistance, leading to failure of chemotherapeutic treatments [
13
,
14
]. Clinically, whether ABCG2 expression could predict overall survival for RCC has not been well studied. Thus, we aimed to evaluate the correlation between ABCG2 expression and overall survival of patients with clear cell RCC managed by renal surgery.
Methods
Patient samples
Following approval by the Ethics Committee of Ruijin Hospital, the kidney surgery Registry database was used to identify patients who were managed with renal cancer surgery from 2008 to 2013. Written informed consent was obtained from all the patients. During this time, 120 patients with complete recorded information and paraffin sections were enrolled in our study, and followed-up for a minimum of three years. Decisions about radical nephrectomy (114 cases) or partial nephrectomy (6 cases) were made by the primary surgeon based on individual tumor and patient conditions. After surgery, 101 patients without metastasis at the initial diagnosis received interferon alpha for one year as the routine sequential treatment. In addition, Sorafenib or Sunitinib was administered in the other 19 patients with metastatic RCC until intolerable side-effects of drugs or disease progression. The main exclusion criteria from this analysis were a lack of a complete recorded file and unavailability of paraffin sections.
Evaluation of ABCG2
Immunohistochemistry staining (IHC) is one of the most widely used methods for the identification and assessment of prognostic biomarkers. In the present study, standard IHC protocol was used to detect the expressions of ABCG2 according to the manufacturer's instructions [
14
,
15
]. Samples of renal cancer were collected, fixed in 10% formalin, and embedded in paraffin wax. Monoclonal antibody against ABCG2 (#271–396, Santa Cruz) was used in this study [
14
,
15
].
Tissue sections were prepared from the formalin-fixed-paraffin-embedded specimens. Antigen retrieval of RCC was performed by incubating the slides in Tris-EDTA buffer (pH 8.4) at 99 °C for 60 min. The endogenous peroxidase activity was inactivated in methanol with 3% H
2
O
2
. Then, the slides were incubated with primary antibody for 60 min and secondary antibody for 8 min, followed by DAB chromagen staining for 8 min. All the procedures were performed using stainer (BenchMark XT, Ventana) and the slides were scanned (Ventana iScan Coreo) [
14
].
The IHC results were quantified by qualified and experienced pathologists. Each stained section was independently evaluated by two pathologists using standard criteria from the WHO classification. The third independent pathologist would adjudicate the stained section if there was different opinions. The staining of BXP-21 was scored as negative if less than 10% of the tumor cells were stained [
14
]. The intensity of the positive staining of ABCG2 was graded into two categories: ABCG2(+) for weak membrane staining of tumor cells; ABCG2 (++) for moderate or strong membrane staining of tumor cells.
TCGA database analysis
The RNA-seq data was downloaded from TCGA database and analyzed by the cBioPortal-MSKCC tool. ABCG2 expression was compared between clear cell RCC and all the other genitourinary tumors available from TCGA database using unpaired
t
-tests and nonparametric test (Additional file
1
: Fig. S1). Significance was considered if
p
< 0.05.
Statistical analysis
Continuous variables were expressed as a median and interquartile range (IQR) and compared using Mann-Whitney test. The categorical variables were compared by chi-square and Fisher's exact tests. The primary endpoint was defined as the overall survival, which was initiated from the date of renal cancer surgery until death or the end of follow-up. Survival curves were plotted by Kaplan-Meier method and compared using log-rank test. Multivariable Cox regression was used to identify the independent predictors for overall survival. All the
p
-values were two-tailed and
p
< 0.05 was considered as significant. Data were analyzed by using SPSS version 20.0 (SPSS Inc., Chicago, IL, USA).
Results
Discussion
The detection ABCG2 expression by IHC staining is clinically valuable. Improved diagnostic techniques aimed at the selection of RCC patients with less expression of ABCG2 might result in more successful outcomes. For example, the RCC patients with highly expressed ABCG2 require more care after surgery and intensive follow-up. Moreover, IHC staining is a common and economical method to detect ABCG2 and could be widely used in clinical management. Therefore, ABCG2 could be utilized in most medical institutions.
While this study comprised a moderate size of patients with extended follow-up, it is also retrospective and derived from a single tertiary-care center, which could impact the generalizability. Another limitation is that the paraffin sections were preserved for a prolonged duration that may affect the IHC staining to a certain degree.
Conclusions
ABCG2 is a significant and independent prognostic marker of overall survival in patients with clear cell RCC managed by renal surgery, and its high expression is correlated with poor overall survival and increased metastasis. This will be conducive to further research of ABCG2 at molecular level as well as gene level for the drug resistance in kidney cancer. IHC staining for ABCG2 could be monitored routinely in clinical management. Moreover, further pre-clinical evaluations for the mechanism of ABCG2 in RCC are essential.
Acknowledgments
We sincerely appreciate the patients' participation.
Availability of data and materials
Attributing to the privacy of patients, the patient information is publicly inaccessible.
Authors' contributions
HW, ZX, XH and YZ designed the treatment protocol and performed the surgeries. FL and RM performed the pathological studies and made pathology pictures. HH and KS participated in the study design, performed the data collection and chart review, and helped with the draft of the manuscript. ZZ and JZ carried out the reviews of literature, performed statistical analysis, and drafted the manuscript and revision. All authors have read and approved the final version of this manuscript.
Competing interests
The authors declare that they have no competing interests.
Consent for publication
Not applicable.
Ethics approval and consent to participate
Following approval by the Ethics Committee of Ruijin Hospital, the kidney surgery Registry database was used to identify patients who were managed with renal cancer surgery from 2008 to 2013. All patients enrolled in this study were followed-up as a clinical routine with written consent.
Open Access
This article is distributed under the terms of the Creative Commons Attribution 4.0 International License (
http://​creativecommons.​org/​licenses/​by/​4.​0/​
), which permits unrestricted use, distribution, and reproduction in any medium, provided you give appropriate credit to the original author(s) and the source, provide a link to the Creative Commons license, and indicate if changes were made. The Creative Commons Public Domain Dedication waiver (
http://​creativecommons.​org/​publicdomain/​zero/​1.​0/​
) applies to the data made available in this article, unless otherwise stated.