07.02.2018 | Original Article | Ausgabe 2/2018 Open Access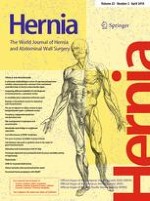 Abdominal wall reconstruction following resection of large abdominal aggressive neoplasms using tensor fascia lata flap with or without mesh reinforcement
Zeitschrift:
Autoren:

Z. Song, D. Yang, J. Yang, X. Nie, J. Wu, H. Song, Y. Gu
Abstract
Purpose
Abdominal wall defects caused by neoplasms with large extended resection defects remain a challenging problem. Autologous flaps, meshes, and component separation techniques are effective in reconstructing these defects. We retrospectively reviewed and assessed the success of reconstruction using tensor fascia lata flap with or without meshes.
Methods
18 patients with abdominal wall neoplasms were identified during the period from 2007 to 2016. A retrospective review of office charts and hospital records was performed.
Results
A total of 18 patients received corresponding treatment according to the degree of defects, with a mean age of 53.89 ± 14.56 years old, a mean body mass index (BMI) of 22.89 ± 4.09 kg/m2, and a mean American Society of Anesthesiologist (ASA) score of 2.18 ± 0.75. Operative details included the mean defect size (303.44 ± 175.67 cm2), the mean mesh size (265.92 ± 227.99 cm2), and the mean operative time (382.33 ± 180.38 min). Postoperative wound complications were identified in 7 (39%) patients, including incisional infection, edema and thrombus. Neoplasm recurrence was observed in 2 (13%) primary neoplasms patients. No hernias were present in any patient.
Conclusions
Abdominal wall defects caused by neoplasms should be repaired by autologous flaps combined with or without mesh reinforcement. Most type I defects should be primary sutured; type II or III defects should be repaired well by flaps, with or without mesh; if the incision is infected or contaminated, biological mesh or flaps are the best choice.