12.01.2019 | Functional Neuroradiology | Ausgabe 3/2019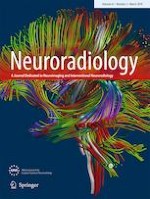 Abnormal amplitude of low frequency fluctuation and functional connectivity in non-neuropsychiatric systemic lupus erythematosus: a resting-state fMRI study
Zeitschrift:
Autoren:

Hong Yu, Xiang Qiu, Yu-qing Zhang, Yan Deng, Mao-yuan He, Yu-ting Zhao, Zhao-hua Zhai
Wichtige Hinweise
Publisher's note
Springer Nature remains neutral with regard to jurisdictional claims in published maps and institutional affiliations.
Abstract
Purpose
To explore the amplitude of low frequency fluctuation (ALFF) and functional connectivity (FC) disorders in non-neuropsychiatric systemic lupus erythematosus (non-NPSLE) patients by resting-state functional magnetic resonance imaging (rs-fMRI) and to study whether there are some clinical biomarkers that can be used to monitor the brain dysfunction.
Methods
Based on the rs-fMRI data of 36 non-NPSLE patients and 30 normal controls, we first obtained the regions with abnormal ALFF signals in non-NPSLE patients. Then, by taking these areas as seed regions of interest (ROIs), we calculated the FC between ROIs and the whole brain to assess the network-level alterations. Finally, we correlated the altered values of ALFF and FC in non-NPSLE patients to some clinical data.
Results
Compared with the controls, non-NPSLE patients showed decreased ALFF in bilateral precuneus and increased ALFF in right cuneus and right calcarine fissure surrounding cortex (CAL). At network level, non-NPSLE patients exhibited higher FC between left precuneus and left middle occipital gyrus (MOG)/left superior occipital gyrus (SOG)/right middle frontal gyrus (MFG)/right dorsolateral superior frontal gyrus (SFGdor), and higher FC between right cuneus and bilateral precuneus/left posterior cingulate gyrus (PCG). The abnormal ALFF in right CAL and abnormal FC in right cuneus–left precuneus, right cuneus–right precuneus, and right cuneus–left PCG were correlated with the patients' certain clinical data (
p
 < 0.05).
Conclusion
Rs-fMRI is a promising tool for detecting the brain function disorders in non-NPSLE patients and to help understand the neurophysiological mechanisms. C4 and Systemic Lupus Erythematosus Disease Activity Index may be biomarkers of brain dysfunction in non-NPSLE patients.