17.11.2015 | Original Article | Ausgabe 4/2016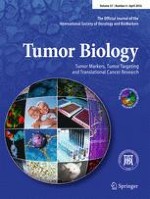 Abnormality of Wnt3a expression as novel specific biomarker for diagnosis and differentiation of hepatocellular carcinoma
Zeitschrift:
Autoren:

Liuhong Pan, Min Yao, Wenjie Zheng, Juanjuan Gu, Xuli Yang, Liwei Qiu, Yin Cai, Wei Wu, Dengfu Yao
Wichtige Hinweise
Liuhong Pan and Min Yao contributed equally to this work.
Abstract
The member 3a of Wingless-type MMTV integration site family (Wnt3a) as an oncogene is overexpressed in many kinds of tumors with a worse outcome. However, the mechanism and alteration of Wnt3a expression in hepatocellular carcinoma (HCC) have not been clarified. In this study, the levels of Wnt3a expression were investigated in 80 HCC tissues or sera of 186 patients with chronic liver diseases. The incidence of hepatic Wnt3a expression in HCC tissues was 96.25 % and significantly higher (
χ
2
 = 48.818,
P
 < 0.001) than that in their surrounding tissues (46.25 %). The higher level (>800 ng/L) of circulating Wnt3a expression was found in 92.5 % HCC patients and significantly related (
P
 < 0.05) to alpha-fetoprotein (AFP) level, liver cirrhosis, hepatitis B virus infection, poor differentiation, tumor node metastasis, and extra-hepatic metastasis. The level of Wnt3a expression in HCC patients was obviously higher (
P
 < 0.001) than that in any group of cases with benign liver diseases. The diagnostic specificity or the area under the receiver operating characteristic curve was 94.34 % or 0.994 in Wnt3a and 69.81 % or 0.710 in AFP for HCC, respectively. The present data suggested that Wnt3a expression associated with tumor progression should be a novel specific biomarker for diagnosis and differentiation of HCC.