01.12.2017 | Commentary | Ausgabe 1/2017 Open Access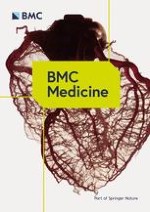 About the complexity of adult onset Still's disease… and advances still required for its management
Zeitschrift:
Autoren:

Philippe Guilpain, Alain Le Quellec
Background
Conclusions
We hope that physicians will now be interested in Pouchot's score and that further studies will simply confirm it as a prognostic tool. The discriminating cut-off predictive of death should also be evaluated and even precised. From this point of view, the study by Ruscitti et al. [
2
] represents an interesting step in the understanding of AOSD clinical presentation. Interestingly, these findings are in line with the 'dichotomous view' of AOSD [
1
] and could be helpful for the therapeutic decision between glucocorticoids alone or combined with immunosuppressive drugs/biologics as first-line treatment.
The final issue raised by this study concerns the methodology, whose improvement is crucial for clinical research on AOSD in the near future. In this rare inflammatory disorder, international or national (as that by Ruscitti et al. [
2
]) collaborative studies would provide the critical mass for pertinent statistical analyses and validation through evidence-based medicine.
As often observed, prognostic and therapeutic advances will probably arise from a better understanding of clinical phenotypes and pathophysiological mechanisms, and from a 'dismemberment' of AOSD into several entities, analogous to what ensued following the discovery of biomarkers, such as anti-neutrophil cytoplasm antibodies, on the spectrum of 'polyarteritis nodosa' and other vasculitides. The concept of AOSD as a disorder clinically meeting Yamaguchi's criteria probably covers several entities with distinct pathophysiological processes but certain common inflammatory actors. Will the advances on inflammasome and cytokines help during the following years? Since AOSD is at the frontier of autoimmune and autoinflammatory disorders, the answer is 'yes, probably'. In the end, what do the two forms of AOSD, namely systemic monophasic AOSD with high inflammation state at onset and complete recovery after several months versus chronic AOSD with systemic onset and chronic destructive sero-negative polyarthritis, have in common? The answer remains: 'only our perplexity and ignorance…'
Authors' contributions
PG analyzed and commented recent studies on the subject. PG and ALQ equally contributed to the writing of this manuscript. Both authors read and approved the final manuscript.
Authors' information
ALQ is MD, PhD, and Professor of Internal Medicine at Montpellier's University. ALQ is also the head of the department of "Internal Medicine – Multi-Organic Diseases" in Montpellier's teaching hospital. This department is a local referral centre for rare autoimmune diseases in adult patients. PG is MD, PhD, and Associate Professor in the same university and department. ALQ and PG are both working on autoimmune and/or inflammatory diseases, in particular systemic vasculitides, systemic sclerosis and adult-onset Still's disease.
Competing interests
PG is a medical expert for LFB (Laboratoire Français du Biofractionnement) and has received fees from Abbvie, Boehringrt Ingelheim France, Pfizer, and Roche in the last five years. ALQ declares that they have no competing interest.
Open Access
This article is distributed under the terms of the Creative Commons Attribution 4.0 International License (
http://​creativecommons.​org/​licenses/​by/​4.​0/​
), which permits unrestricted use, distribution, and reproduction in any medium, provided you give appropriate credit to the original author(s) and the source, provide a link to the Creative Commons license, and indicate if changes were made. The Creative Commons Public Domain Dedication waiver (
http://​creativecommons.​org/​publicdomain/​zero/​1.​0/​
) applies to the data made available in this article, unless otherwise stated.