01.12.2015 | Research article | Ausgabe 1/2015 Open Access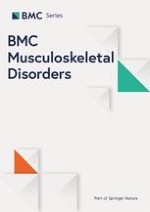 Abrasion arthroplasty increases mesenchymal stem cell content of postoperative joint effusions
Zeitschrift:
Autoren:

Rainer Beckmann, Sebastian Lippross, Claudia Hartz, Mersedeh Tohidnezhad, Mónica S. Ventura Ferreira, Sabine Neuss-Stein, Andreas Seekamp, Sven Nebelung, Nisreen Kweider, Björn Rath, Holger Jahr, Thomas Pufe, Deike J. Varoga
Wichtige Hinweise
Rainer Beckmann Sebastian Lippross Claudia Hartz Mersedeh Tohidnezhad Thomas Pufe and Deike J. Varoga contributed equally to this work.
Competing interests
The authors declare that they have no competing interests.
Authors' contributions
All authors were involved in drafting the article or revising it critically for important intellectual content, and all authors read and approved the final version to be published. Conception and design: CH, HJ, BR, SL, TP, DV. Collection and assembly of data: RB, CH, AS, MT. Analysis and interpretation of the data: RB, CH, HJ, MT, SL, SNS, BR, TP, DV, MVF. Drafting and revising of the article: RB, CH, HJ, SL, SNS, MT, TP, AS, DV, MVF, SN, BR, NK.
Abstract
Background
Abrasion arthroplasty (AAP) is a procedure by which intrinsic cartilage healing is believed to be stimulated. Although clinically accepted for degenerative and traumatic cartilage lesions scientific evidence at a molecular level that proves the effect of AAP is scarce.
Method
Mononuclear cells were extracted from postoperative joint effusions 21.5 h post AAP and simple debridement of cartilage lesions. Luminex, ELISA and FACS experiments were performed. Immunohistochemical stainings of cell cultures for cartilage markers were used to confirm the findings.
Results
Postoperative joint effusions after AAP showed increased contents of Mononuclear cells compared to Arthroscopic Chondroplasty (ACP). BMP-4 and IGF were increased in AAP as complared to ACP. Mononuclear cells isolated after AAP express the MSC markers CD 73, CD 105, CD 90, CD 44 and are CD34 negative. Chondrogenic differentiation was demonstrated by positive staining for Sox9, collagen II, proteoglycan, chondroitin-4-sulfate.
Conclusion
Our results support the clinical application of AAP as a procedure that enhances cartilage repair as an alternative to far more complex procedures that have gained popularity. Furthermore the data presented supports clinical investigations that recommend not to use suction drainage as by this procedure a considerable amount of the regeneratory potential of postoperative joint effusions might be extracted.