01.12.2012 | Case report | Ausgabe 1/2012 Open Access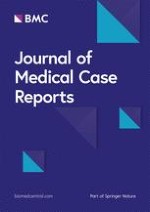 Abscess of urachal remnants presenting with acute abdomen: a case series
Zeitschrift:
Autoren:

Fadl Tazi, Mustapha Ahsaini, Abdelhak Khalouk, Soufiane Mellas, Roos E Stuurman-Wieringa, Mohammed Jamal Elfassi, My Hassan Farih
Wichtige Hinweise
Electronic supplementary material
The online version of this article (doi:
10.​1186/​1752-1947-6-226
) contains supplementary material, which is available to authorized users.
Fadl Tazi, Mustapha Ahsaini contributed equally to this work.
Competing interests
The authors declare that they have no competing interests.
Authors' contributions
FT and MA are the principal authors and major contributors in writing the manuscript. AK and SM analyzed and interpreted the patient data and reviews of the literature. MJE and MHF read and corrected the manuscript. RSW contributed to the writing and correction of this paper. All authors read and approved the final manuscript.
Abstract
Introduction
Urachal diseases are rare and may develop from a congenital anomaly in which a persistent or partial reopening of the fetal communication between the bladder and the umbilicus persists. The most frequently reported urachal anomalies in adults are infected urachal cyst and urachal carcinoma. The diagnosis of this entity is not always easy because of the rarity of these diseases and the atypical symptoms at presentation. Imaging techniques, such as ultrasonography and computed tomography have a significant role in recognizing the presence of urachus-derived lesions.
Cases presentations
Case presentation 1:
A 25-year-old Arab-Berber man presented with a 10-day history of progressive lower abdominal pain accompanied by fever, vomiting, and low urinary tract symptoms to our emergency department. Laboratory data revealed leucocytosis. The diagnosis of an acute peritonitis was made initially. Abdominal ultrasonography revealed a hypoechoic tract from the umbilicus to the abdominal wall, and the diagnosis was rectified (infected urachal remnants). The patient was initially treated with intravenous antibiotics in combination with a percutaneous drainage. Afterwards an extraperitoneal excision of the urachal remnant including a cuff of bladder was performed. The histological analysis did not reveal a tumor of the urachal remnant. Follow-up examinations a few months later showed no abnormality.
Case presentation 2:
A 35-year-old Arab-Berber man, without prior medical history with one week of abdominal pain, nausea and vomiting, associated with fever but without lower urinary tract symptoms visited our emergency department. Laboratory data revealed leucocytosis. Abdominal ultrasonography was not conclusive. Computed tomography of the abdomen was the key to the investigation and the diagnosis of an abscess of urachal remnants was made. The patient underwent the same choice of medical-surgical treatment as previously described for case one, with a good follow-up result.
Case presentation 3:
A 22-year-old Arab-Berber man, with no relevant past medical history, presented to our emergency department because of suspected acute surgical abdomen. Physical examination revealed umbilical discharge with erythema and a tender umbilical mass. Abdominal ultrasonography and computed tomography scan confirmed the diagnosis of infected urachal sinus. Initial management was intravenous antibiotics associated with a percutaneous drainage with a good post-operative result, but a few days later, he was readmitted with the same complaint and the decision was made for surgical treatment consisting of excision of the infected urachal sinus. The clinical course was uneventful. Histological examination did not reveal any signs of malignancy.
Conclusions
We describe our clinical observations and an analysis of the existing literature to present the various clinical, radiological, pathological and therapeutic aspects of an abscess of urachal remnants. To the best of our knowledge, this manuscript is an original case report because this atypical presentation is rarely reported in the literature and only a few cases have been described.