01.12.2017 | Research article | Ausgabe 1/2017 Open Access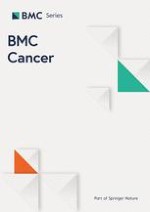 Acacia hydaspica

ethyl acetate extract protects against cisplatin-induced DNA damage, oxidative stress and testicular injuries in adult male rats
Zeitschrift:
Autoren:

Tayyaba Afsar, Suhail Razak, Muhammad Rashid khan, Ali Almajwal
Abstract
Background
Cisplatin (CP), an effective anticancer agent, carries the risk of impairing testicular function leading to infertility. The present study aimed at evaluating the protective effect of
A. hydaspica
ethyl acetate extract (AHE) against CP-induced oxidative stress and testicular injuries in rats.
Methods
Rats were divided into six groups (
n
 = 6). Group I (control), group II (CP single dose on day 16). Group III received AHE for 21 days. Group IV (CP + AHE; post- treatment group). Group V (AHE + CP; pre-treatment group) and group VI (CP + Sily).
Results
CP treatment reduced serum testosterone (T), LH and FSH, decreased the activity level of antioxidant enzymes while increased the concentration of oxidative stress markers, i.e. thiobarbituric acid reactive substances (TBARS), H2O2 and nitric oxide (NO) along with corresponding DNA damages. Furthermore, CP induced adverse morphological changes in testis of rats including reduced epithelial height and tubular diameter, increased luminal diameter with impaired spermatogenesis. Pre and post-treatment with AHE reduced the side effects of CP in testis tissues through improvement in the reproductive hormonal secretions, enzymatic activities, histological and DNA damage parameters. Pretreatment seems to be more effective and equivalent to silymarin group in reversing the CP deleterious effects as compared to post-treatment.
Conclusion
The results demonstrated that
A. hydaspica
treatment in CP-induced testicular toxicity augments the antioxidants defense mechanism, reverted the level of fertility hormones, suppressed the histomorphological alterations and DNA damages and thus provides the evidence that it may have a therapeutic role in free radical mediated diseases.