01.12.2017 | Research article | Ausgabe 1/2017 Open Access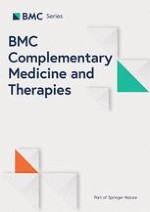 Acacia hydaspica

R. Parker prevents doxorubicin-induced cardiac injury by attenuation of oxidative stress and structural Cardiomyocyte alterations in rats
Zeitschrift:
Autoren:

Tayyaba Afsar, Suhail Razak, Khalid Mujasam Batoo, Muhammad Rashid Khan
Abstract
Background
The use of doxorubicin (DOX) an anthracycline antineoplastic agent is withdrawn due to its cardio-toxic side effects. Oxidative stress has been recognized as the primary cause of DOX induced cardiotoxicity. We have investigated whether polyphenol rich ethyl acetate extract of
Acacia hydaspica
(AHE) can attenuate doxorubicin-induced cardiotoxicity via inhibition of oxidative stress.
Methods
AHE was administered orally to rats once daily for 6 weeks at doses of 200 and 400 mg/kg b.w. DOX (3 mg/kg b.w. i.p., single dose/week) was administered for 6 weeks (chronic model). The parameters studied to evaluate cardioprotective potential were the serum cardiac function biomarkers (CK, CKMB, AST and LDH), hematological parameters, cardiac tissue antioxidant enzymatic status and oxidative stress markers, and histopathological analysis to validate biochemical findings.
Results
Chronic 6 week treatment of DOX significantly deteriorated cardiac function biomarkers and decreased the activities of antioxidant enzymes, whereas significant increase in oxidative stress biomarkers was noticed in comparison to control group. AHE dose dependently protected DOX-induced leakage of cardiac enzymes in serum and ameliorated DOX-induced oxidative stress; as evidenced by decreasing lipid peroxidation, H2O2 and NO content with increase in phase I and phase II antioxidant enzymes. Doxorubicin treatment produced severe morphological lesions, leucopenia, decrease in red blood cell counts and hemoglobin concentrations. AHE co-treatment protected the heart and blood elements from the toxic effects of doxorubicin as indicated by the recovery of hematological parameters to normal values and prevention of myocardial injuries in a dose dependent way. The protective potency of AHE (400 mg/kg b.w) was equivalent to silymarin.
Conclusion
Results revealed that AHE showed protective effects against DOX induce cardiotoxicity. The protective effect might attribute to its polyphenolic constituents and antioxidant properties. AHE might be helpful in combination therapies as safer and efficient.