01.12.2015 | Research article | Ausgabe 1/2015 Open Access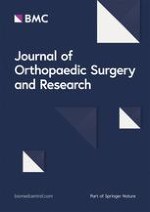 Acceleration of callus formation during fracture healing using basic fibroblast growth factor-kidney disease domain-collagen-binding domain fusion protein combined with allogenic demineralized bone powder
Zeitschrift:
Autoren:

Wataru Saito, Kentaro Uchida, Osamu Matsushita, Gen Inoue, Hiroyuki Sekiguchi, Jun Aikawa, Hisako Fujimaki, Masashi Takaso
Wichtige Hinweise
Competing interests
The authors declare that they have no competing interests.
Authors' contributions
KU, OM, and MT designed the study and performed the analysis of the data. WS and KU wrote the manuscript. GI, HS, JA, and HF participate in the data collection. All authors read and approved the final manuscript.
Abstract
Background
To repair fractures with large bone defects or gaps, demineralized allogenic bone matrix (DBM) is often applied to the fracture site. However, studies have shown that the use of DBM alone has limited efficacy for repairing fractures. In the present study, we developed an allogenic demineralized bone powder (DBP) with basic fibroblast-derived growth factor containing a polycystic kidney disease (PKD) domain and collagen-binding domain (CBD) from
Clostridium histolyticum
collagenase (ColH) and investigated the stimulatory effects of bFGF-PKD-CBD combined with allogenic DBP on bone growth in a mouse femur fracture model.
Methods
DBP mixed with either phosphate-buffered saline (PBS) (DBP/PBS), 0.58 nmol basic fibroblast growth factor (bFGF) (0.58 nmol DBP/bFGF), 0.058 nmol bFGF-PKD-CBD (0.058 nmol DBP/bFGF-PKD-CBD), or 0.58 nmol bFGF-PKD-CBD (0.58 nmol DBP/bFGF-PKD-CBD) was grafted into fracture sites.
Results
bFGF-PKD-CBD/DBP composite accelerates callus formation in a bone fracture model in mice and clearly showed that the composite also increases bone mineral density at fracture sites compared to bFGF/DBP. In addition, bFGF-PKD-CBD/DBP increased callus volume and bone mineral content to similar levels in fractures treated with a tenfold higher amount of bFGF at 4 weeks.
Conclusions
Our results suggest that bFGF-PKD-CBD/DBP may be useful for promoting fracture healing in the clinical setting.